Nissan Pulsar Tekna dCi 110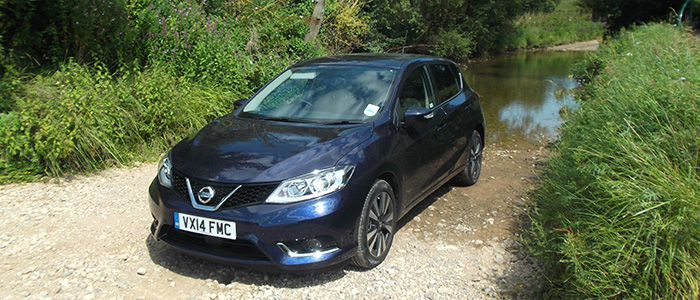 Will your Pulsar be racing when you drive this new Nissan?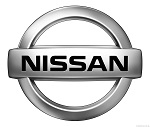 The Pulsar is a C-Sector five door hatch that will compete with others cars in this popular sector such as the Ford Focus, Vauxhall Astra, Peugeot 308, Renault Megane, Volkswagen Golf, Seat Leon and many, many more; the list appears almost endless. You could even include the Nissan Qashqai in the list as it is a very popular C-Sector car and sells so well both as a fleet car and a retail choice. So why do Nissan want to introduce another hatch…? That's a good question.
The car we had on test was the Tekna which is top of the range and there was nothing wrong with it. It did everything right, it drove well, had good fuel consumption, class leading rear leg room and low CO2 emissions. But it did lack a bit in the styling department, some were rude enough to call it dull.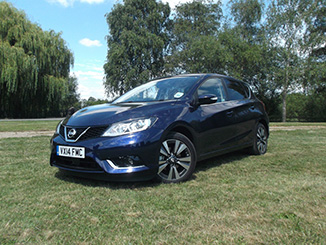 The car was powered by the Renault-Nissan Alliance 1.5 dCi diesel power plant that produces 110ps, it accelerates from 0 to 62mph in 11.5 seconds, has a top speed of 118mph, a CO2 emission figure of 94g/km and an official combined fuel consumption figure of 78.5mpg. Therefore all in all not a bad set of figures, with it competing well with most others in this segment. There are also a couple of petrol engines to choose from too, a 1.2 DiG-T with 115ps. This engine is available with manual or Xtronic CVT gearbox and there is also a 1.6 DiG-T with 190ps, due in early 2015, this is only available with a manual gearbox though. The CO2 emissions range from 117g/km to 139g/km and the combined fuel consumptions from 47.1 mpg to 56.5mpg for these petrol engines.  
During the time we had the car, we took it on various journeys, including many miles on the motorway, and according to the on-board computer it achieved on average just over 52mpg, a good result we thought, although some way off the 78.5mpg quoted by Nissan, overall we were still happy with the consumption though.
The interior is well appointed, good quality throughout and well put together, it is comfortable and as already mentioned, there is an ocean of room in the rear for the legs, heads and shoulders for three adults, and is by far the class leader for interior space. 
The Pulsar's 1.5 dCi engine is so sweet and smooth, the Alliance have got this exactly right; it's a really nice engine. It is certainly not the quickest thing away from the traffic lights, but it is quick enough. It cruises easily at 70mph on the motorway and never feels overstretched; it always seems to be on top of the job. The cabin is quiet, and despite the rear passengers appearing to be sat so far away, having a conversation with them is easy and you never have to shout to be heard.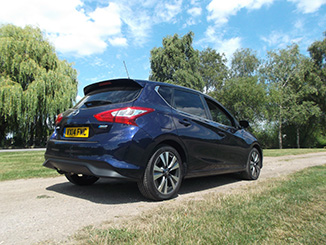 Nissan came up with the master-stroke when they launched the Qashqai, it was a brilliant invention, and since then just about every other manufacturer have tried to get in to the crossover sector, some have achieved this and some have failed, in trying to create their own version of this very versatile twist on C-Sector.  The Qashqai it is a very clever car.
The Pulsar has not only has to compete with a long list of very good hatches from its competitors, but also is up against the Qashqai too. Now Nissan will say that the "traditional" C-Sector hatch market is the largest sector in the UK, and they want to play in that segment with their own original hatch that sits neatly with the others in terms of looks and dimensions, which is true. But they already have a big presence in this segment, so the Pulsar seems to muddy the water a bit and some will find it confusing.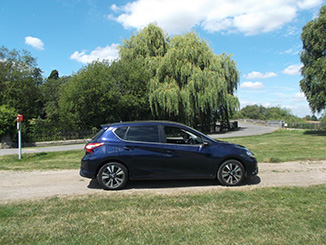 The Pulsar does a lot of things right, but it is a bit understated in the design department. But then not everyone wants an exciting looking car that attracts attention and gets noticed everywhere it goes. There are many who just want a good, useable car with no frills or dynamic looks, has plenty of room, good on fuel and low VED, and is mega-reliable with a good network of dealers, just in case. 
In the same vein there are also many more who do want a good looking, stylish car that has the wow factor, so now there is even more choice with the introduction of the Pulsar, and I guess we will see a few on our roads, and I can also guess what sort of driver will be behind the wheel. Or it could be ideal for the Police, HMRC or MI5 if they need to do some undercover surveillance and not get noticed.
The cost of the car we had on test is £21,945 OTR, which is not exactly cheap, but still competitive. 
The Pulsar is a good car… but for me, the Qashqai wins every time.
Martin Ward, Manufacturer Relationship Manager