First Driving Impressions – Volkswagen Golf GTD
19/06/2013
—
CAP Marketing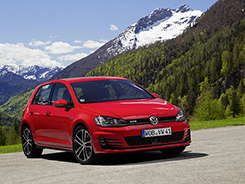 The route that Volkswagen had planned for us around Bavaria had to be altered at the last minute due to heavy rain and melting snow on the mountains, which had caused flooding in many of the villages that we were supposed to go through. So instead we decided to keep to the higher ground and on motorways instead of the passes, which was a shame, but a much safer option.
The all-new GTD is sensible person's idea of a Hot-Hatch, its great looking, sporty and oozes flair and image. The GTD has uniquely shaped bumpers, honeycomb radiator grille and front air intakes to add to its already sporting prowess.
The GTD is powered by a 2.0-litre turbocharged diesel engine that produces a massive 184ps. It goes from 0-62mph in 7.5 seconds, has a top speed of 142mph and C02 emissions figures of 109g/km for the 6-speed manual and 119-122/km for the DSG automatic.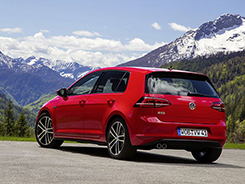 The engine proved to be so smooth, refined and extremely quiet that even at high speeds on the German Autobahn you really could not hear a thing from under the bonnet. VW have certainly got the engine noise right, and managed to get the cabin well insulated from any noise outside. However with such low noise levels, you do run the danger of driving much quicker than you ought to without realising it, so beware if you do get the pleasure of driving one.
The Golf GTD comes with smoked LED rear lights, LED number plate illumination and standard bi-xenon headlights with LED daytime running lights. The exterior is also enhanced by having chrome dual tailpipes, 18-inch 'Nogaro' alloy wheels, side skirts, a rear diffusor, sports suspension and a large rear roof spoiler. It is available with either three doors or five doors, but surprisingly around 90% of UK buyers opt for the five-door version. I personally prefer the looks of the three-door model, but I can understand the benefits of having the rear doors for ease of entry as it makes it more practical, and as the five-door model is only £415 more I can see why most people take this option.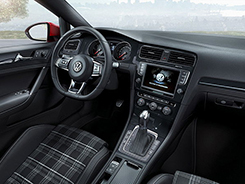 The interior looks as sporty as the exterior with standard tartan 'Jacara Grey' sports seats, which are much nicer than they sound. It also has a black roof lining, sports steering wheel, stainless steel pedals and trim-strips which are all GTD-specific and unique to this car. The cabin looks and feels sporty, but does not have any hard characteristics in the ride, generally associated with this type of hot-hatch. You feel as though you could drive it for mile after mile in complete comfort, and get out feeling as relaxed as when you first got in it.
Out on the roads in Bavaria the GTD was a real pleasure to drive, so much so that I was actually disappointed when I had to hand it back at Munich airport to catch my flight home. I really felt as though I was leaving an old friend behind, as the GTD was something I had grown to know and love in a very short time, and I'm sure future owners will feel exactly the same, but the advantage that they will have is they will get to drive it for years, and not just a day, as I did.
Prices for the Golf GTD start from £25,285 for a three-door manual and go up to £27,355 for a five door DSG.
Martin Ward, CAP Manufacturer Relationship Manager
Want to receive notifications of these blogs in your inbox? Email webcontact@cap.co.uk and sign up today.