CAPcalc Reforecaster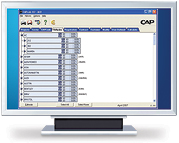 CAPcalc Reforecaster is developed in close consultation with major fleet operators and provides instant insight into current and future disposal values within fleets.
It is an essential part of asset management and enables current valuation data adjustments to reflect actual remarketing experience. 
What does it include?
CAPcalc Reforecaster includes values of an entire fleet at today's and the future's disposal price, as we add model, derivative and sector trends.
What can it do?
Fast fleet, trend and risk analysis 
Instant reports 
Create scenarios to help plan for potential risk and profit/loss 
Calculate values for entire fleets 
ASCII report output for integration into own business systems