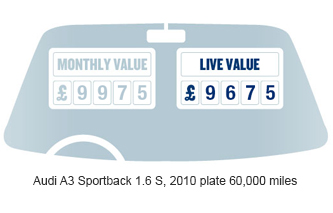 If you're still using monthly valuations to value your cars here's a statistic that will make you think again. With approximately 60% of values changing throughout the course of the month, it's a sad fact that monthly guides are often out-of-date within a week of release.
Values can quite easily change by hundreds of pounds, so with so many changes occurring, how can you be sure you have full confidence that your monthly guide offers you the true market value of a car? Valuation Anywhere Live not only does this, but also ensures your profits remain optimised at all times!

Check out some of the links on the left of the page to see how Valuation Anywhere Live can help you.