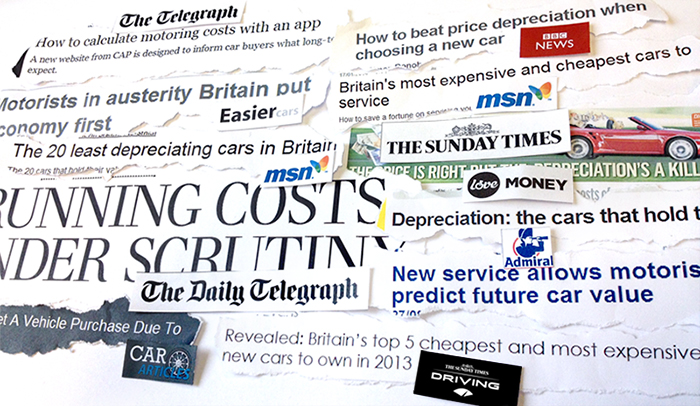 Get Total Cost of Ownership for FREE in Valuation Anywhere
Total Cost of Ownership (TCO) gives you and your customers at-a-glance information about how much a car costs to run.
Did you know:
Overall running costs, the level of depreciation and on-going service costs are the three most important factors a consumer wants to know but can't find information on

7 out of 10 consumers thinking of buying a car ask about running costs  

98% of consumers will look to compare different models and derivatives before making a purchase decision
CAP's new TCO tool provides the intelligence to satisfy these queries, helping bring information-hungry customers together with the best dealers.
In just four months 300,000 motorists have used our 'Total Cost of Motoring' service to help them choose the right car for them. It's been making news everywhere, from the BBC and the Sunday Times to regular features on top motoring websites like MSN Cars and Telegraph Motoring – as well as local newspapers up and down the country.
We're giving you this upgrade FREE to help you convert more of your budget-conscious prospects into happy car buyers. This is the latest in a long line of free enhancements that our Valuation Anywhere customers have received. And it won't be the last...
TCO Lite benefits
Satisfy your customers' running cost questions
CAP's research shows that today's information-hungry shoppers ask all sorts of probing questions – How much will this car cost to run? How fast does it depreciate? What is its road tax? What is the running cost per mile? TCO gives you all this intelligence for FREE enabling you to respond to running cost questions with full confidence.
TCO is a great tool for convincing customers that the car they are considering offers true value and won't leave them out of pocket over the coming months and years. The factual information offered allows you to offer this information as part of your negotiations proactively to seal the deal.
Choose stock that you know will sell
TCO helps you choose stock that interests your customers. For example, if your customers look for cars that are cheap to run then TCO helps you identify vehicles with low running costs. Alternatively, if depreciation is the greatest concern, TCO helps you identify cars with lower depreciation.
Optimise your profits and generate greater cash flow
By stocking the cars that are most attractive to your customers you'll generate a faster turnover of stock and free up greater cash flow.
Make smarter part exchanges
Find out how much a trade-in will cost in terms of fuel, maintenance, servicing, depreciation and tax. You can use this information to optimise profits on your part exchanges.
Build customer trust and confidence
Show your customers exactly how much a car will cost them to run over time.* They'll thank you for being honest and transparent and you'll benefit from building strong relationships, generating positive word-of-mouth and securing repeat custom.
TCO Lite features
At a glance detail shows:
- Cost per month
- Cost per mile
- Servicing costs
- Maintenance costs
- Depreciation costs
- Fuel costs
- Road tax costs
Automatically links to the retail price of the car under discussion

*Cars valued over a 3 year ownership period based on 12,000 annual mileage

Values available for cars up to 5 years old only

Automatically appears in your Valuation Anywhere screen

Easy to turn off module with a simple untick in your 'My Profile' page


How does TCO Lite appear in Valuation Anywhere?



In your Valuation Anywhere summary screen, after you've entered a registration plate and mileage, you'll now see a new feature near the bottom called Total Cost of Ownership.
This shows you the overall cost of owning the car you have just searched for; how much it will cost to run each month and how much it will cost to run per mile.
It also shows how these costs break down, so you'll know how much the car's service and maintenance cost, depreciation cost, fuel cost and road tax cost will be.
* Figures are based on a three year period and 12,000 miles. 
      For more information please contact support@cap.co.uk