First Driving Impressions – Audi A3 Saloon
03/07/2013
—
CAP Marketing
European Press Event, Budapest.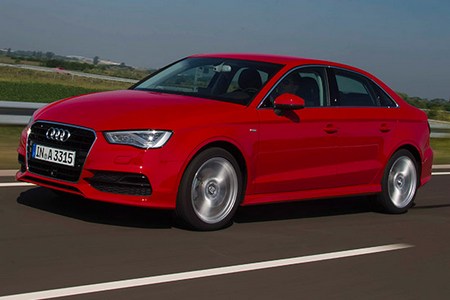 Every now and again, I sit on the plane and ask myself why I am going to this car launch, especially after spending the previous night in a hotel, and having to check into the airport early in the morning.  
I thought this while on the way to Hungary, as I'm only going to see an A3 with a boot added on the back. I have driven the new A3 many times, so how can this be any different?
We landed into Budapest just a week after there had been floods in the country. Luckily the weather had changed, and early in the morning it was already up to 32°C and getting hotter by the minute. So it was a relief to know that all these cars have air conditioning. 
This is the first time Audi has ever made an A3 saloon, and they see a huge market for it, particularly in North America and China. The A3 has always sold in huge numbers, with over 3.5 million being sold since its launch in 1996.
The saloon measures 4.46m long and has a wheelbase of 2.64m. This means it has short overhangs, which give it a more coupe like stance, and turns the A3 saloon into a very good looking car. It also has some really nice swathe lines, which from some angles makes it look even more like a sporty coupe, rather than a small family saloon. 
"In some respects I would say it is actually more stylish than the A4"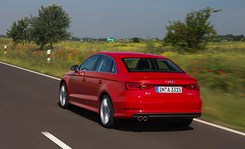 There will be a choice of engines available: A 1.4TFSI CoD (Cylinder on Demand) 140ps, a 1.8TFSI 180ps and a 2.0TDI 150ps. Then shortly after will be a 1.6-litre TDI 105ps added to the range. At the launch we got to drive the 1.4 petrol and the 1.6 diesel. In our opinion the 1.6 diesel is the one to have, and certainly worth waiting a couple of months for. This engine has more than enough power, is quiet, refined and likely to have a C02 figure below 100g/km. The 1.4 petrol we drove has the CoD technology that shuts-down cylinders two and three when driving at low or moderate speeds. There was no noticeable impact on consistency or refinement of power delivery, and it felt the same to drive with either four or two cylinders, which makes it a great piece of engineering and design.
So is there a market for a Premium Compact four-door saloon in the UK?
Well I certainly thought not, until driving it, and understanding the reasons behind the conception. If you compare it to the A4, it is only 24cm shorter, but interior space is pretty much the same. The boot space is 425-litres, or if you drop the rear seats (which are very easy to operate) it goes up to 880-litres, so it is not a small car.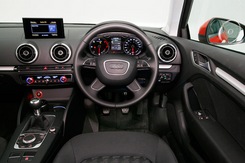 The price when compared to a similar A4 is around £4,000 less, and when you combine that with having the advantage of the 1.6TDI and 1.4 CoD engines which have lower C02 and better fuel consumption, the A3 saloon starts to make sense. Then there are those people who like the idea of a premium saloon such as the 3-Series, A4 and C-Class, but can't afford one, so have to go for the cheaper BMW 1-Series, Audi A3 or Mercedes A or B-Class instead. What Audi are doing with the A3 Saloon is offering a solution to a small amount of potential buyers and filling a gap in the market, and although other manufactures have often tried, and failed to produce a 'booted-version' of a popular hatch, the A3 Saloon could just be the exception to this rule.
On the plane back to Stansted, I had different feelings to those on the way out, and thought maybe, just maybe, Audi might be onto something here - after all they rarely get things wrong…
Prices for the A3 saloon start from £24,275 and go up to £28,105 OTR, with two trim levels available: Sport and S line.
Martin Ward, CAP Manufacturer Relationship Manager
Want to receive notifications of these blogs in your inbox? Email webcontact@cap.co.uk and sign up today.