First Driving Impressions – Kia Cee'd Sportswagon, UK Press Event, Zilina, Slovakia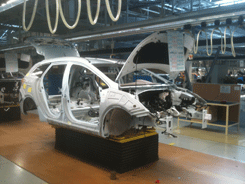 Before we drove the all-new Cee'd Sportswagon, we had a tour of Kia's European plant in Zilina. This plant opened in 2006 and looks as new and fresh today as it did then. This factory is very modern and not a spot of dirt could be found anywhere; it is literally spotless. Around 3,900 people work there and currently three shifts are in operation to keep up with demand. The Cee'd, Venga and Sportage are all built there, with the new Pro Cee'd due to start production early next year. The Zilina Plant can build up to 300,000 cars per annum, with one coming off the line every minute.
Rolls of steel come in from Korea, and just about every metal panel, auxiliary part and chassis piece is cut and pressed on-site using Kia's own machinery. There is also an on-site engine shop that builds around 450,000 petrol and diesel engines for Kia and Hyundai. The assembly area is huge and mainly fully automated using hundreds of robots. After the cars are completed they all cover 1.5 km on the test track to check for squeaks and rattles, but rarely any are found. From this plant around 20% of production goes to Russia, 10% to Germany, 9% to the UK, 6% to Spain and 5.5% to Italy.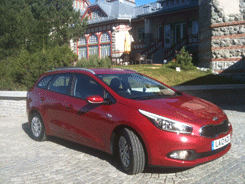 We got into our UK registered, right hand drive Cee'd Sportswagon that had recently come off the production line and set off towards the High Tatras Mountain range; a brilliant route that included some brand new roads that were very smooth and others which looked to be long overdue some much needed repair. Many of the houses and other buildings in the area had tin-roofs; some were polished and looked very attractive, while others were a bit old and rusty.
We drove to the overnight stay in a Cee'd '3' 1.6 litre CRDi 126bhp start/stop diesel, and drove back to the airport the next day in a Cee'd '1' 1.4 litre CRDi 89bhp start/stop diesel. The 1.6 litre diesel goes from 0-62mph in 10.8 seconds, has a top speed of 120mph and a CO2 figure of 116g/km. Its official combined fuel consumption figure is 64.2 MPG, but we only achieved around 42 mpg. However, bear in mind that we did have to go 8,000 feet up a mountain as part of the route, which will not have helped its average fuel figure or been the most economical route. The 1.4 litre diesel goes from 0-62mph in 13.4 seconds and doesn't feel as slow as the figures might indicate. We drove it back down the mountain on some fairly tight and twisty roads and it performed really well. Its official combined fuel consumption figure is 67.3 MPG and we achieved just over 57 mpg, so a good result, but most of this journey was travelling downhill, which certainly aided its fuel consumption. However, this is still an economical engine and it's very quiet and refined.
The interior has a very high quality fit and finish; some excellent materials have been used.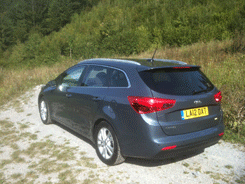 It's just a pity that the 1.4 litre diesel is only available on the entry level '1' grade and not on any with a higher specification. The '1' does however have a fairly good standard specification list which includes air conditioning, 60:40 spilt folding rear seats, hill start assist, Bluetooth connectivity, steering wheel mounted controls and a luggage area under floor tray. The '3' model has in addition: privacy glass, automatic headlights, rain sensing front wipers with de-icing elements, electric lumbar support on both front seats, dual zone air conditioning and a 7" screen with European sat nav mapping.
 
The rear load area has a capacity of 528 litres with the rear seats up and 1642 litres with them folded flat. The boot space does look large and fairly square, so luggage, parcels and shopping can be easily stored. The height of the load floor is just right as well, and with its under-floor storage you can put smaller items safely out of sight.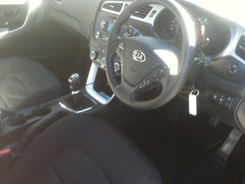 The interior has a very high quality fit and finish; some excellent materials have been used. All the knobs, levers and switches are all consistent in terms of look, feel and sound, and Kia has concentrated on using the same type of chrome around all the vents, the gear lever and handles to achieve a premium look. It looks very stylish and all works very well.
We drove the Cee'd Sportswagon on a variety of very different roads, through small villages to brand new motorways. The one very noticeable thing about the estate version of the Cee'd was just how well it rode over the lumps and bumps of some very potholed roads in Slovakia. It was very surprising just how good it was.
The two cars we tested are priced at £16,895 for the 1.4 litre CRDi and £21,095 for 1.6 litre CRDi. Again, it's just a shame there isn't a 1.4 litre in a higher trim grade, then it would offer the best of all worlds.