CAP used values voted the best by motor dealers
01/08/2014
—
CAP Marketing
Car Dealer Power Awards 2014 - Winner 'Car Valuation Provider of the Year'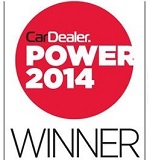 We are delighted to announce that CAP has been voted 'Car Valuation Provider of the Year' by the readers of Car Dealer Magazine.
CAP scooped the title last night at the Car Dealer Power Awards 2014, when dealers gathered to recognise the best car manufacturers and industry suppliers in one of the biggest events in the automotive business calendar.
This category of the annual Car Dealer magazine awards is especially satisfying to win, for us, because it is voted for by motor dealers themselves.
Because customers are always at the heart of everything we do, this is the best possible recognition of the relevance and quality of Black Book and Black Book Live – and a brilliant testament to the work of what we believe is the best used values research team in the industry.
The award was collected by Philip Nothard, one of our Black Book Live editors, and Jon Bulloch – CAP's National Sector Manager for Manufacturers. They are now bringing the award home from Portsmouth where last night's awards were staged.
We're still awaiting the official photographs, but here's a preview of the award – being shown off by Philip and Jon.