Dacia's UK success - one year on
13/01/2014
—
CAP Marketing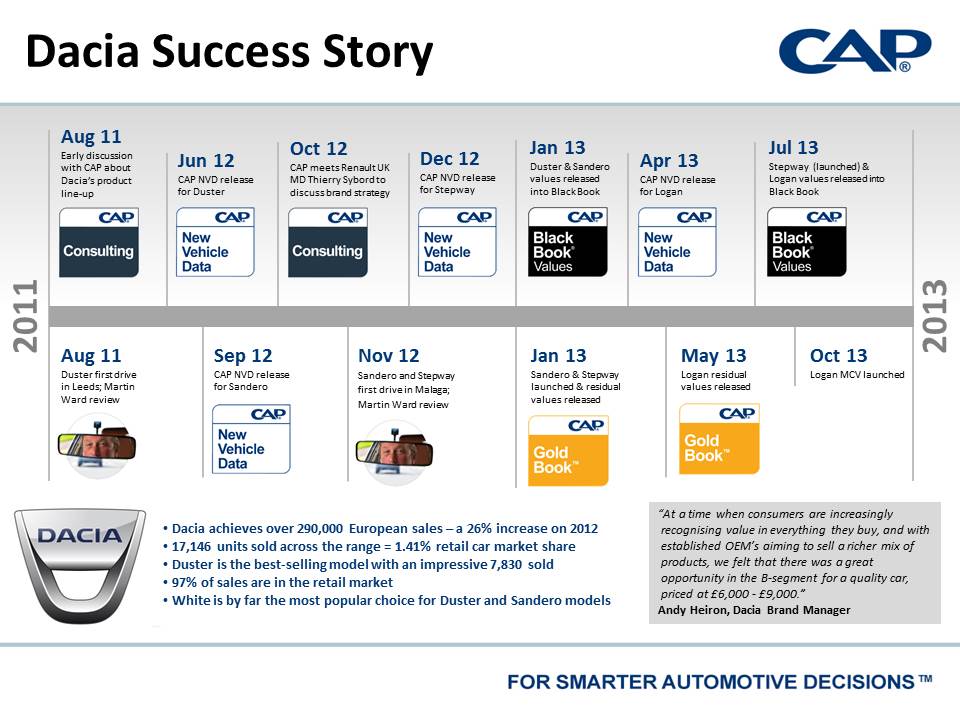 This January marks one year since Dacia re-entered the UK car market with the launch of their Sandero and Duster models. And what a fantastic 12 months they have had.
The Sandero and Duster hit the UK showrooms in late January 2013, with the Sandero Stepway following six months later and Logan MCV in October. The newly launched brand, capturing the imagination of the British public, quickly established a 1.4% retail market share by the year end. Indeed in 2013 Dacia achieved an impressive 26% growth across the board, with over 290,000 European car sales clocked up.
CAP has supported Dacia along its journey. Beginning with early strategy discussions about their product line-up back in 2011, CAP's Manufacturing Relationship Manager Martin Ward then took his first drive of the new Duster with positive reviews. The following year CAP released New Vehicle Data for two Dacia models, the Duster and Sandero, as Dacia drew upon the accuracy and robustness of CAP's expert data management. Residual values have since been released into CAP's famous Black Book.
Since they were bought by the Renault Group in 1999, the Dacia brand has successfully filled a gap in the market with well-built, spacious, good-looking cars that fall within many people's household budgets. Dacia are looking to increase their UK market share even more this year.
For information on how CAP can help grow your brand or support your car to market process, please visit our CAP Consulting site.