Data errors and the risk to your reputation.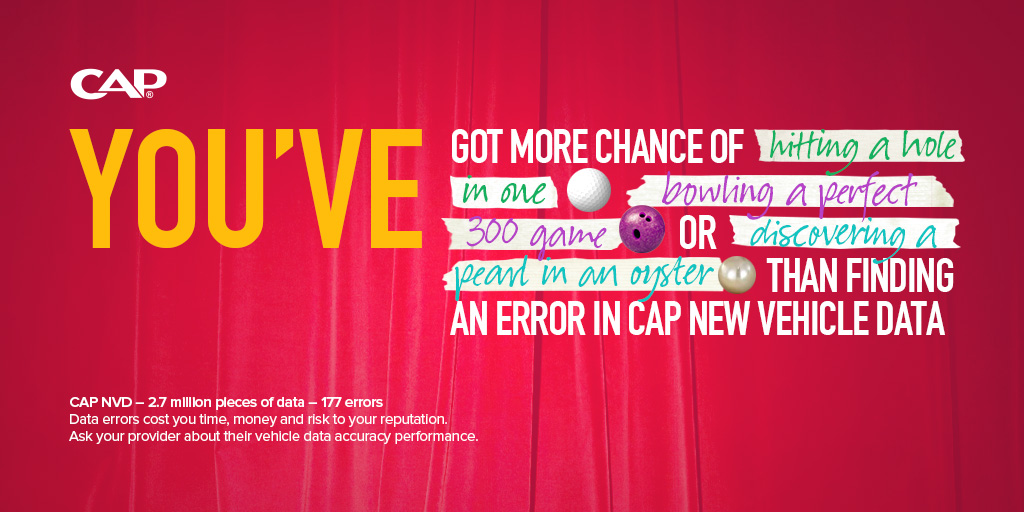 We're really proud of the quality of our data. And we're 100% confident that it is the best of its kind. So confident, in fact, that we are challenging our competitors to prove they can match the accuracy of CAP New Vehicle Data.
We think they would be unwise to even try. Recent experience shows what happens in real life when one of our competitors persuades a customer that they are stronger than CAP. You can read about that here in the Car Dealer magazine forum 
Data quality is clearly one of those things you simply cannot ignore. We all like to pay as little as possible for products but we hate it when we are let down because we were simply trying to be as efficient as possible. It's even worse when that happens in the business world because there is a risk that your supplier's poor quality will end up reflecting on you in the eyes of your customers.
Of course, errors will always creep in when you're talking about data systems containing millions of pieces of information. But there's a lot you can do to minimise it – and CAP really does do a lot to drive out mistakes. We invest so much in our people, systems and processes that we have come closer to an error-free suite of new vehicle information products than anyone else.
That's why we have decided to confess that there is a 0.0066% chance you might find an error in CAP NVD.
While we continue to work tirelessly toward the day when we can boast a zero error rate, let's put that into context.
We worked out some interesting statistics with which to compare the quality of our New Vehicle Data.
You are less likely to find an error in CAP New Vehicle Data than you are of achieving a perfect series of bowling strikes in one game to score an unbeatable 300 game.  If you did bowl that game, you'd have beaten odds of 11,500 to one!
Do you play golf? If so, this one's for you.
You are three times more likely to shoot a hole in one than you are of finding an error in CAP New Vehicle Data.
It's a bit off the automotive theme, but most of us have looked for that lucky four-leaf clover at one time or other. So consider this …
If you go looking for one, you're more likely to find a four-leaf clover on your very first attempt than you are of finding a mistake in NVD.
And one more example of unlikely things that are nonetheless more likely than finding fault with CAP NVD …
There is a higher chance of finding a pearl in an oyster than there is of discovering a mistake in CAP New Vehicle Data. Those are long odds. There is one pearl in every 12,000 oysters while there are even fewer errors than one in 15,000 pieces of CAP NVD information.
The point of all this is not to boast about our quality.  It is to demonstrate that in a complex market, which relies so heavily on the highest quality information to power systems, we take our responsibilities seriously.
No, we are not cheap. But we don't sell on price. We sell on quality and reliability. We work to make you successful. We work to ensure you get a good return on your investment with us. We also work to protect your reputation. We have seen what happens when a top flight business changes to a data supplier with serious accuracy problems. It damages the reputation of the customer by making life more difficult for their customers.
In short, when you use CAP data it means more than getting a good quality product.  It protects your reputation.  When you work with CAP, we've got your back.
As for the existence of finding 177 errors out of 2.7 million pieces of CAP New Vehicle Data when we audited our 2014 progress, we're not happy about that.  But we are confident that no one else can come close to such a record. 
We aim for a zero error rate.  But until then, we remain proud of the fact that your odds of finding an error in CAP NVD is 15,254 to 1.
And if you don't yet use CAP New Vehicle Data we recommend you ask your provider about their record on accuracy.  Because your reputation might depend on it.
Read more about the complexities of the market and the importance of accurate NVD.