First Driving Impressions – Volkswagen Golf GTI
22/05/2013
—
CAP Marketing
The first thing that is obvious as you get into the all-new Golf GTI is the sporty look and feel of the interior. The standard seats are tartan trim which is quite loud but does work, however if the tartan seats are not for you the Vienna Leather upholstery is available as an option, and also adds a certain amount of quality and premium.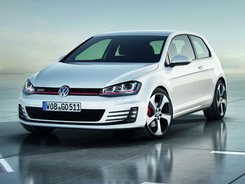 The Golf GTI comes as standard with 220ps, however for people who think this is not enough there is the optional performance pack which adds an extra 10ps. The power comes from a 2.0-litre TSI petrol engine which has C02 emissions of 139g/km for the manual, or 148g/km for the DSG (149g/km with the DSG and the performance pack), and combined fuel consumption figures ranging from 44.1mpg to 47.1mpg. The Performance Pack costs £980, and as well as the extra 10ps it also includes GTI lettering on the front brake callipers, uprated brakes and a limited-slip differential, which I think makes it worth the extra money. The front differential is a new development by VW that provides more neutral and agile driving behaviour, and allows higher speeds to be carried through curves and corners.
We picked up the cars at Nice airport and drove them to the Paul Ricard Circuit at Le Castellet. On the motorway we were surprised at just how comfortable the suspension was. It was not harsh or hard at all, in fact it was a pleasure to drive and rode over the bumps and lumps very well without trying to shake your teeth out, as you might normally expect from a sports-hatch.
We got to the Circuit (which is a two-hour drive on the motorway from Nice), and we immediately put VW's new front differential system to the test. I am not a particularly quick driver on test tracks, as many people know, but after a bit of instruction from the Volkswagen Team I was pushing the GTI into corners quicker than I would ever have dared. It seemed that no matter how fast you were going, the car just hung on to the tarmac never shifting away from where you wanted it to go, and the acceleration out of the corners was nothing short of amazing. I also found it impressive that even with all this high speed track driving going on, the car felt safe and solid at all times, which is reassuring when you are pushing the car to its limits. It was explained to me in great detail how the new front differential works, most of which went over my head, but the important thing to remember was – it works, and even the poorest driver on the track, was made to look like a professional.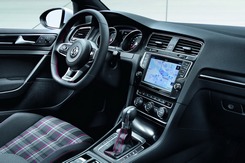 After leaving the track we went on some twisty, winding mountain roads, so I decided to play it safe and not be as daring as I had previously been. It was good to know though that if I did get into trouble, the cars system would very quickly get me out of trouble, and keep me safe, on the road and in a straight-line. To get around the South of France we used the cars satellite navigation system which was fitted with a Google-Earth map service. It works likes a conventional sat-nav, but not only can you see the roads, you can also see the surrounding area from a birds-eye view, which is all very clever.
The standard 220ps GTI goes from 0-62mph in 6.5 seconds with the 230ps model taking 6.4 seconds. All models are fitted with a Start/Stop system and fulfil Euro 6 emissions requirements that take effect in 2014.
The Golf GTI is an Icon, which is loved and adored by most, but will the latest version be as popular as every model before it? There is no doubt that any Golf GTI should be desirable, have loads of image and be fun to drive.
The new model has all of these qualities; it is great looking, the design is evolutionary, it's safe and solid with a high level of quality throughout.
Most importantly the new GTI is great to drive, and is so much fun it brings a smile to your face.
Prices for the Golf GTI start from £25,845 for the three-door model, the five door model costs £655 more, with prices going up to £28,895 for a 230ps with DSG.
Martin Ward, CAP Manufacturer Relationship Manager
Want to receive notifications of these blogs in your inbox? Email webcontact@cap.co.uk and sign up today.