Best of the best! CAP reveals the running costs of the What Car? Awards Roll of Honour 2014
MOTORING COST experts CAP Automotive today revealed the total cost of ownership for each car in this year's What Car? Awards Roll of Honour – showing that the triumphant Nissan Qashqai costs less than 50 pence per mile to own.
But the cheapest car to live with in the latest What Car? Awards Roll of Honour is the Hyundai i10 – at just 29 pence per mile.
CAP's experts crunched the numbers for forecast depreciation, fuel consumption, service & maintenance and road tax for all the cars named in the What Car? Awards.
They were aiming to discover how motorists would fare financially, over the next 3 years, if they bought one of the cars this month.
The results reveal that the lowest depreciation is enjoyed by the Hyundai but the Skoda Octavia scores best in the list for service and maintenance costs.
CAP's analysis also illustrates how luxury comes at a price, with the total cost of owning a Mercedes-Benz S Class over 3 years revealed as more than twice as much as the purchase price of 2 Volkswagen Golf Bluemotion Techs – awarded the best estate trophy by What Car?
CAP Total Cost of Motoring figures are used by car buyers every day to understand how they can save money on motoring. CAP's unique car cost comparison tool – free to use at www.cap.co.uk/consumer - has helped thousands of people make the best choice of new or used car for their long-term budget.
Congratulating the winners in every What Car? Awards category, CAP Automotive's Retail & Consumer Specialist Philip Nothard said: "A What Car? Award is gold dust for motor manufacturers and reflects real quality and fitness for purpose in a car.
"Our figures show the cost to the motorist of enjoying those benefits over the next 3 years and 36,000 miles if one of those winning cars is bought this month.
"The results are interesting because they reveal the incredibly wide variation in the impact of depreciation, total fuel consumption and service & maintenance over time.
"Running cost information like this shows that if you want a particular make and model, there can be a world of difference between two variants from the same brand. In the What Car? Awards list we see two Audi A3's with more than £8,000 difference in their ownership cost over three years.
"From the list we can also see that the exciting performance offered by a Ford Fiesta ST in the end costs only a little over £50 per month more than tootling around in a more sedate one-litre Fiesta.
"Getting under the skin of car ownership costs in this way is one of the best ways to get the most car you can, to suit your long-range budget, as well as saving money every day and not just at the point of purchase."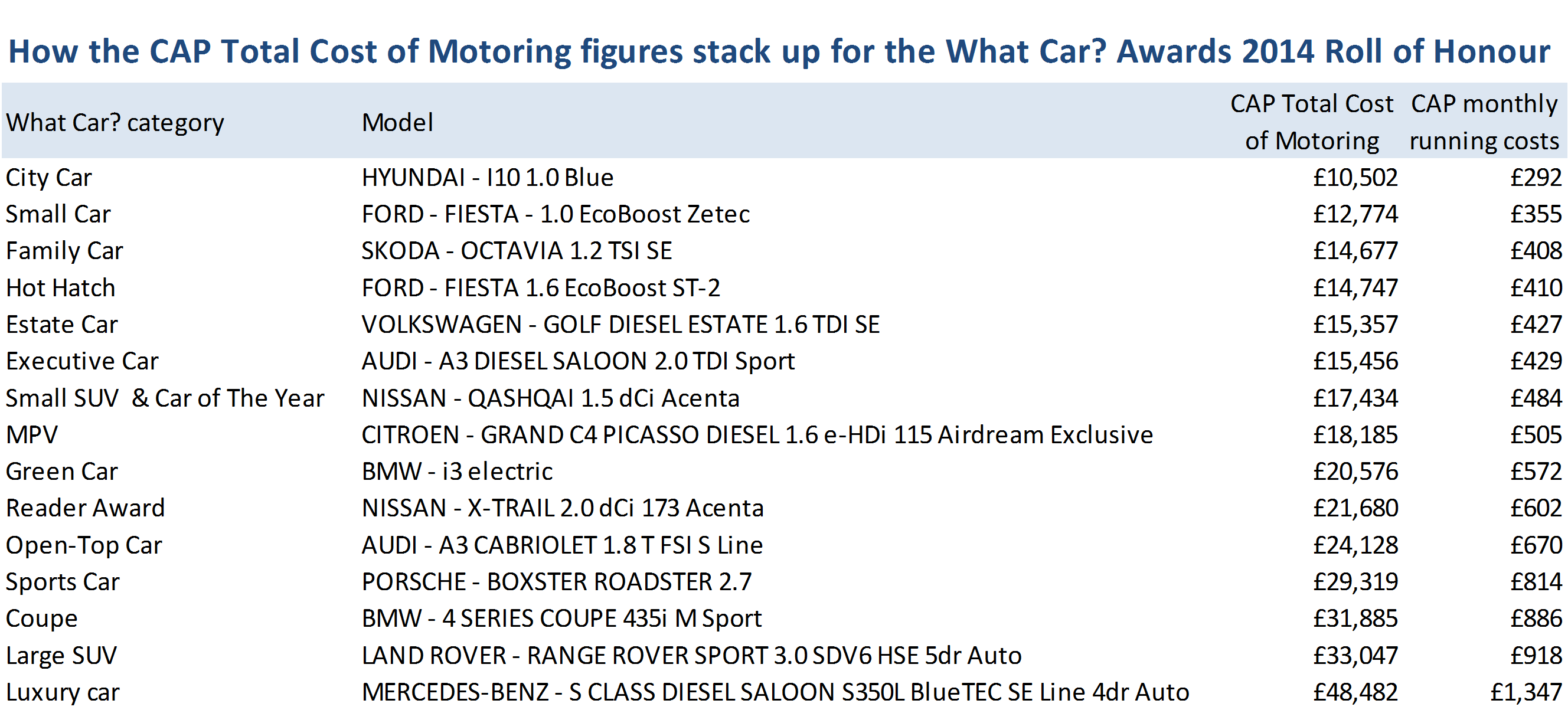 Notes to Editors
Figures are based on CAP's Total Cost of Motoring tool – free to use at www.cap.co.uk/consumer – and reflect ownership costs over 3 years from January 2014, at 12,000 miles per year.
CAP Total Cost of Motoring is a unique independent service revealing all the critical costs of car ownership, including depreciation – the biggest cost of all – to take the guesswork out of future daily running costs