Retail used car demand on the rise as dealer stock levels hover around 80%
RETAIL DEMAND for used cars is stronger than at any time since September last year, according to CAP Automotive, the car information experts.
Research for CAP Black Book Live – the only independent real-time guide to used car trade values – reveals a number of increasingly positive market indicators since the start of 2013.
These range from the mood and buying activity at auctions to consumer retail demand on the forecourt.
But dealers are still reporting difficulty in sourcing good quality used car stock for retail following the reduction in new car registrations of recent years. And that problem may worsen as increasing numbers of poor condition cars with high mileage continue returning to the market.
Coupled with dealer caution over becoming over-stocked, this shortage of 'prime' retail stock is keeping forecourts only around 80% full.
However, Black Book Live – which tracks market prices in real time – has been reporting general stability in trade values.
Derren Martin, Senior Editor for CAP Black Book Live, said: "We are seeing what we describe as a good 'buzz' around the auction halls, with plenty of appetite from dealers for the best quality stock – when they can find it.
"Some auction sales have seen conversion rates up to 20% better than during the same period last year and the dealers we speak to are generally happy with the level of retail interest they are seeing.
"We keep a close watch on the market every day and there have been some signs that increased short term rental business for some model ranges is starting to bring higher volumes into the marketplace. When that happens, prices tend to reduce but at the moment stability is the watchword in the current trade market."
Chart 1 'Auction Buzz'
Auction Buzz is a CAP Black Book Live indicator of the level of the mood and level of buying activity at auction. Scored from 1 to 10, the 'buzz' reflects the enthusiasm or otherwise of buyers in the trade market. This measure assists in CAP's reporting of market conditions to accompany the values published in Black Book Live.
Chart 2 'Retail Demand'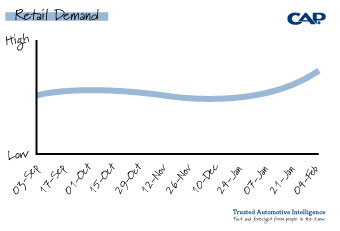 CAP's measure of retail demand stems from daily face-to-face discussions with used car dealers. Strength of demand is scored out of a possible 10 and the consolidated results from hundreds of discussions helps to provide context for market commentary accompanying Black Book Lives' real time trade price reporting.
Chart 3 'Stock Desirability'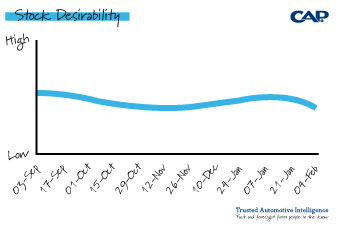 CAP's team of expert Black Book Live editors assess the desirability of the used car stock offered for sale in the trade every day. They use their trade experience to determine the retail appeal of vehicles to help them understand the underlying reasons for fluctuations in trade value. Note: this measure does not assess levels of damage to vehicles, which is measured separately.
ends