CAP's Black Book - now even bigger and better!
28/10/2013
—
CAP Marketing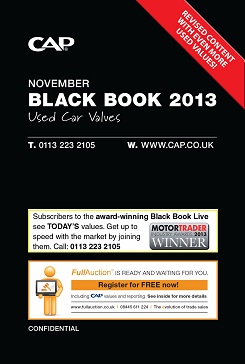 The November 2013 edition of the Black Book is out now, bursting with even more used car values!
Now featuring an additional 333 derivatives, with all the usual age, mileage and condition values, CAP's industry-standard data guide now offers almost 40,000 extra singular valuations.
This expanded used vehicle values coverage provides even better value for money. We've also improved the book's usability whilst keeping accuracy and quality as high as ever.
Don't forget you can also access CAP's Black Book data on the go, thanks to our portable solutions: Black Book iPhone App and Valuation Anywhere. These products give you access to almost 52,000 derivatives and a staggering 10 million singular values. You also get features such as mileage adjustments, appraisals, stock revaluations and registration lookups that give you results in seconds!
For more information please email webcontact@cap.co.uk