Acquisition of CAP Automotive by Solera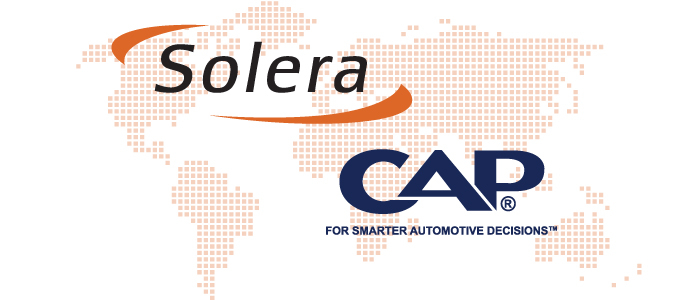 I am delighted to announce the acquisition of CAP Automotive by international automotive data and software specialist Solera.
Solera is a global provider of solutions in the field of insurance claim process and automotive risk management tools operating in the UK and 70 countries in total.  Many customers will already be familiar with some of the businesses in Solera's stable – all leading names in their field – including HPI, CarweB and Audatex. 
I am sure you will immediately recognise that CAP Automotive represents a natural fit in the Solera family but I am most excited by the opportunities it will bring for our customers.
Solera's track record in top flight automotive data delivery, plus an appetite to invest in true 'end to end' risk management tools allows CAP to expand our own recognised solutions into a variety of other applications and international markets.  The acquisition will therefore enable us to deliver immediate wins for our customers.  This includes a range of developments that I am already keenly aware the market is looking to CAP to provide.
For example, synergies between CAP and Solera data assets will enable the creation of an enhanced New Vehicle Data offering to incorporate VIN-specific factory-fit options.  Similarly, CAP's market-leading high quality valuation and specification data will also greatly enhance core propositions for the insurance sector, already well served by Audatex.
For existing and new customers with a pan-global reach, the potential for Solera to place CAP's proven top flight valuation data at the heart of its proposition internationally is another strongly compelling and exciting prospect. 
The positive impact on CAP that an acquisition can bring has been amply demonstrated over the past 30 months under the ownership of Montagu Private Equity.  That period inspired fresh vigour and creativity within CAP which resulted in dramatic enhancements to our quality across all products.  Renewed investment focus boosted the impetus of product and service developments which have been enthusiastically received in the market.  Examples, of which I am especially proud, include our bespoke insight and advisory service – CAP Consulting – and the superb Gold Book and Gold Book iQ residual value forecasting systems.
I have no doubt that the synergies enabled by CAP's presence in the Solera family will be similarly transformational and I am already looking forward to updating you on all our intentions, in due course. 
It is clear to me that the opportunities to provide you with deeper, wider and stronger information services unlocked by this acquisition are where the value of this step truly lies.  The ability to boost profitability for our customers is what drives us every day.  The further boost in our capacity to do that, stemming from our acquisition by Solera, is ultimately what makes this such a great moment in the history of CAP.  I am looking forward to sharing further updates on the benefits that will flow from this development over the coming weeks and months.
Meanwhile, please see the news release below, which has been distributed to the media.
Ian Rendle

CEO – CAP Automotive
News release: LEEDS, UK – THURSDAY NOVEMBER 20 2014 
CAP Automotive Acquired by Solera Holdings, Inc., a Leading Provider of Risk and Asset Management Software and Services to Automotive and Property Marketplace, including the Property & Casualty Insurance Industry 
CAP AUTOMOTIVE has been acquired by Solera Holdings, Inc., a leading provider of risk and asset management software and services to automotive and property marketplace, including the Property & Casualty insurance industry.  
Solera has long-established operations in the UK, and it is active in more than 70 other countries worldwide. The acquisition of CAP creates the only UK-based enterprise with decision support data and software solutions spanning vehicle valuation, validation, collision and mechanical repair and total cost of ownership.  
As a Solera company, CAP will be able to leverage the numerous synergies across Solera's global platform, enabling the rapid development and deployment of solutions that will add unique value to both CAP and Solera customers. 
"CAP's market-leading data, risk and asset management expertise, and dedication to enabling informed customer decisions makes us a natural fit in the Solera family. In taking this exciting step, I am most excited by the opportunities it will bring for our customers," said Ian Rendle, CAP Automotive CEO. "Solera's proven track record and disciplined investments in true 'end to end' risk and asset management tools will allow CAP to expand our own recognised solutions into a variety of other applications and international markets. This partnership and the combined power of CAP's and Solera's data assets will enable us to deliver immediate wins for our customers and bring unique value I am already keenly aware the market is looking to CAP to provide."
"The acquisition of CAP is the latest in a series of investments in Solera's risk and asset management strategy, adding capabilities that create a unique 'digital garage.' Expanding Solera's valuation services through CAP will connect Solera's investments and grow its presence in each phase of the vehicle lifecycle, from purchase, through SMR, to sale or salvage," said Tony Aquila, Solera's founder, Chairman and Chief Executive Officer. "Expanding from the UK across advanced European markets, CAP data will enable households to make informed, market-driven decisions affecting their automotive assets."
About CAP
Founded in 1979 and based in the UK, CAP's data and information systems serve clients across a broad range of automotive-related sectors, including motor retail, fleet, finance and insurance. The business's best of breed data assets are underpinned by the proprietary 'CAP Code', which enables seamless integration of data-sets within web environments and business workflow tools. CAP's current used car values are recognised as an independent benchmark for residual values performance across the disposals industry and CAP Gold Book and Gold Book iQ are the leading residual values forecasting tools in the contract hire and leasing sector. CAP's vehicle data and tools support business decision-makers every day in motor retail operations, including e-commerce, Dealer Management and Showroom Systems as well as asset management systems across the whole automotive sector.
About Solera
Solera is a leading provider of software and services to the global P&C insurance claims processing and decision support industries, focused on risk and asset management of vehicles as well as property. Solera is active in over 70 countries across six continents. The Solera companies include: Audatex in the United States, Canada, and in more than 45 additional countries; HPI, CarweB and CAP in the United Kingdom; Informex in Belgium and Greece; Sidexa in France; ABZ and Market Scan in the Netherlands; Hollander serving the North American recycling market; AUTOonline providing salvage disposition in a number of European and Latin American countries; IMS providing medical review services; Explore providing data and analytics to United States property and casualty insurers; Service Repair Solutions, a joint venture with Welsh, Carson, Anderson & Stowe, that provides solutions for the service, maintenance and repair market; and I&S, a provider of software and business management tools, third-party claims administration, first notice of loss and network management services to the U.S. auto and property repair industries, specializing in glass claims.