Driving Impressions - Audi A7 3.0 TDI Quattro tiptronic
14/08/2013
—
CAP Marketing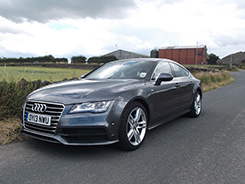 When we first saw the A7 it seemed a bit odd that Audi thought there was a market for such a large hatchback that would surely compete with the A8, and offer similar luggage capacity to the A6 Avant.
We recently had an A7 on test to use as an everyday car, to see if it is practical as an estate and as luxurious as a prestige saloon. It certainly scored highly as a flexible car, as the boot is enormous and there is enough space in the rear for three adults with plenty of leg and head room. But with the sloping rear window it did lose some room and proved it was somewhere in between a saloon and an estate.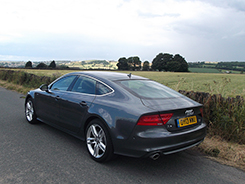 The car we had was powered by a 3.0-litre TDI that produces 245ps, goes from 0-62mph in 6.3 seconds, has a top speed of 155 mph and C02 emissions of 156g/km. The official combined fuel consumption figure is 47.9mpg which does seem high for a three-litre, but extraordinarily it did manage to achieve more than this on our motorway run where we were doing general motorway speeds. On the way down the M1 it regularly managed in excess of 50mpg, and around town it rarely went below 43mpg, which for the size of car and engine was a great result.
The interior is very premium and has an exquisite look and feel to it, from the Valcona leather seats to the high quality dash and all the finishers, it really is a well-built car and the fit and finish is superb. But then this is an Audi and we have come to expect this level of quality from the German manufacturer.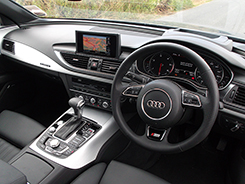 The engine is coupled to a very smooth and efficient 8-speed Tiptronic automatic gearbox, which you can hardly feel shift up or down through the gears and makes driving the A7 a real pleasure. The engine is also a dream and is so quiet you hardly know it is running. It also has Stop/Start fitted as standard, and the shut down and start up quick and effortless.
When the A7 launched in late 2010, we were not sure if it would take off; it was a good looking car but executive hatchbacks this size just did not exist so it was forging its own sector. But fast forward a couple of years and it is going strong and doing very well. It's large, comfortable, economical, a delight to drive, oozes luxury, plus when the rear seats are folded there is enough luggage room to rival a van.
All this does come at a price though, and that price for the standard car is £49,665 OTR. Add a few extras like our car had, and the price can easily go up to over £54,000.
Martin Ward, CAP Manufacturer Relationship Manager
@MartinW_CAP 
Want to receive notifications of these blogs in your inbox? Email webcontact@cap.co.uk and sign up today!