Driving Impressions – Ford Fiesta 1.0 EcoBoost Zetec
09/04/2013
—
CAP Marketing
How could Ford possibly make a very good and popular car even better? When you have to follow on from an already great car, you still have to update and improve it, but it's always a balancing act to not take anything away from what the previous car was. Happily Ford has managed to do just that with the new Fiesta. When we say new, what we really mean is the previous model with a huge front-end facelift. Nevertheless it is more than enough to make this latest Fiesta look very different.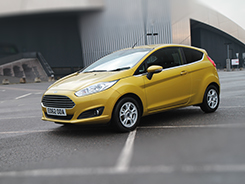 The car we had on test was the Zetec five-door, fitted with the 1.0-litre EcoBoost petrol engine which produces 100ps, goes from 0-62mph in 11.2 seconds, has a top speed of 112mph and a C02 emissions figure of just 98g/km. The official combined fuel consumption figure is 65.7mpg, but during the time we had the car, the on-board computer was showing we had achieved just over 55mpg on average.
The test car was fitted with Ford's latest invention, 'MyKey'. MyKey has a variety of applications most of which are aimed at parents who let their children drive their car. With the MyKey system Ford have come up with a novel way of giving parents the chance of restricting what their children can do in the car. This is a good idea for worried mums and dads, and gives more piece of mind when their children are out in the car. Some of the applications are a good idea in principle, but not in practice for us at the 'older-end'. Somebody in their wisdom had set the maximum speed in our Fiesta to 72mph, at which point a buzzer will then sound to tell you that you cannot go any faster. Whilst I do know the speed limit on the motorway is 70mph, it can be a bit frightening at times if you run out of steam when you are trying to get past another car. I suppose that's the point of MyKey though, you just stick it in the nearside lane at 60mph, mind your own business and keep out of trouble.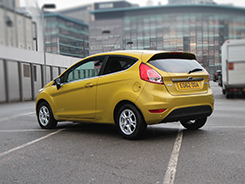 I put my briefcase on the passenger seat, tried to switch on the radio and found that it did not work. I tried all sorts to get it to work and then I remembered the Ford presentation on the original launch that said if the seat detects an occupant not wearing a seat-belt the radio will not work, which means my briefcase must have been heavy enough to trick the system into believing someone was sat on the passenger seat. You can alter settings like these using a master key, but I couldn't find anywhere where you could switch it off.
The new Fiesta is a great looking car, and the new 'Aston-ish' front grille with its four-bar chrome feature is a wonderful piece of design which really does make it stand out in a crowd.
The Zetec has a good level of standard equipment which includes: 15-inch alloy wheels, front fog lights with chrome surround, leather-trimmed steering wheel and handbrake handle, 'flow-through' centre console, Trip Computer, Ambient lighting, and the Quickclear heated front windscreen which turned out to be a huge advantage during the time we had the car, as the weather was rather cold and the windscreen had become iced over. Luckily the Quickclear option lived up to its name.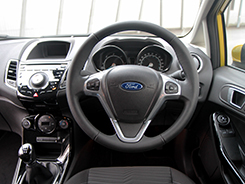 The interior has also been modernised and improved, with a new centre console that now looks part of the car instead of a bit of an afterthought. Materials used are up to a reasonably high standard and the fit and finish is good. The controls in the centre of the upper-dash still look a bit complicated and fussy – like there is too much going on, and could really do with being simplified.
The 1.0-litre EcoBoost engine is a sweet little thing; quiet, refined, has more than enough power and really suits the Fiesta. Fuel consumption is not fantastic, but isn't bad for a petrol engine as it achieves around 55mpg. This is good as petrol is quite a bit cheaper than diesel at the moment, so it's savings all-round.
We drove the Fiesta on a variety of roads, around town, out in the countryside, on the motorway and it was at home on all of them. This Fiesta is a good all-rounder.
The cost of the car we tested was £14,245.
Martin Ward, CAP Manufacturer Relationship Manager
Want to receive notifications of these blogs in your inbox? Email webcontact@cap.co.uk and sign up today.