First Driving Impressions – Renault Zoe
01/05/2013
—
CAP Marketing
It seems many moons ago since I first saw the clay model of the 'Zoe-Concept' at Renault's Techno-Centre. I drove an early pre-production car a few months ago at the CERAM test track near Charles De Gaulle airport. Now years later we finally get to drive the full production car, at a test route on the roads around Lisbon.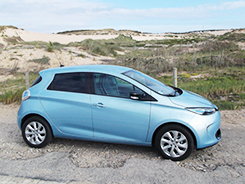 The Zoe is a modern looking, pretty and appealing car with some really nice lines. It looks good from every angle, and from the front it is easily recognisable as a Renault as it gets the new family nose. The large triangular chrome badge is now being fitted to the rest of the range, and makes a Renault easily identifiable.
The cost of the Zoe (after the deduction of the 25% or up to £5000 Government Plug-In Grant) starts from £13,650 and goes up to £14,750 OTR. On top of the initial payment of the car though there is an additional monthly payment for renting the battery. This cost depends on annual mileage and the length of the Contract. For example: over 36 months with an annual mileage of up to 7,500 it is £70 per month. Over 12 months with an annual mileage of up to 12,000 it would be £103 per month.
The Zoe is pure electric and is powered by Lithium Ion batteries, running an electric motor with a power output of 65kW (equivalent of 88hp if you prefer). The Zoe is homologated in the official NEDC cycle to have a range of 130 miles, which gives a useful benchmark for all Electric Vehicles, but like petrol and diesel MPG figures, they can be way off the tested figures when driving the car on everyday roads. However Renault have been realistic and said that in real conditions the driver can expect to achieve around 60 miles in cold weather and up to 90 miles in warmer temperatures. We charged the car up twice to 100% while in Lisbon, on the first charge it got to 141km range, and on the second charge it got up to 129km range, why the difference on the same car, nobody could really answer, as our driving style was the same.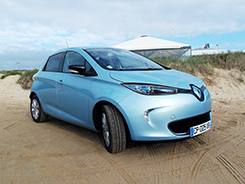 Charging time for the Zoe can range from 30 minutes for a quick charge (which can bring the battery up to 80% capacity) and up to nine-hours for a slow charge (which will bring the battery up to its full capacity). There is an additional payment for each Rapid Charge used in Europe, but no decision has been made for this in the UK yet.
Charging the battery on the Zoe can become difficult as it only comes with a 'round' charging plug, and not a standard 3-pin household plug. So if you are in the position where you go to a friend's house, and need the batteries charging, you can't, unless they have a comparable charging socket. Renault are offering a free domestic wallbox with every new Zoe sold, but this doesn't really solve the issue, and it's unfortunate that the Zoe's can't have a standard 3 pin plug. The much smaller Twizy comes with a 3-pin plug as standard, but the Twizy has a 6.1 kWh battery, compared to the much larger 22 kWh battery on the Zoe.
The Zoe will be available in three trim levels when it goes on-sale from June 7th. These will be the: Expression, Dynamique Zen and Dynamique Intens.
The base car (the Expression), is hardly a base car, as the standard specification it boasts is pretty good and includes: R Link voice controlled TomTom Sat/Nav with 7'' touch-screen, Climate Control, Cruise Control, LED DRL's, Hill Start Assist, low speed pedestrian warning and pre-conditioning of interior temperature (when vehicle is on charge).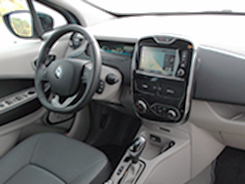 Renault have filled the Zoe full of technology, from the way it drives, and nice-to-haves for the occupants, and I'm sure these systems will soon be offered in Future Renaults. 
Lisbon, contains the second highest number of Plug-In points of any city (Amsterdam is currenly number one), and they are readily available, hence the location for the launch. We drove the Zoe on a variety of roads, and motorways around Lisbon. On the motorway it easily cruised at the speed limit of 130kph, and got up to that speed relatively easily. Through this test we found the Zoe to be quick, comfortable and extremely quiet, so quiet in fact that when you are driving in a town or village, you can find yourself 'creeping' up on pedestrians who are walking across or by the road, as they simply cannot hear you. This is because the Zoe is being powered by pure electric and is almost silent, all you can hear is a faint buzz from the motors. This has the advantage of being a nice quiet place to sit and listen to the radio in peace, but the downside is pedestrians cannot hear you coming, which can be a huge disadvantage and quite dangerous. The question that has been asked time and time again is why not put on an audible warning noise? The answer is that some countries, including the UK are not allowed by law to have any audible warning noises between the hours of 11.30pm and 7.00am.
The interior is up to a high build quality and standard throughout, except for the door arm rests which are so hard it is uncomfortable on your elbows, and you soon learn not to rest on them. There is also quite a bit of reflection on the windscreen from the window demisters, which is really annoying, and even though the Zoe is a five-seater, three adults in the rear would be a bit cramped.
I have to say, that the Zoe, is by far the best EV driven to date, they have got just about everything right, except for a few little niggling things. For those who drive around  60 miles per day, and can wait up to nine-hours to re-charge, it could be a good and cheap form of transport. 
EV sales around the world have been fairly slow up to now, and it will be interesting to see if interest in Pure Electric Vehicles will take off to a level that was predicted a few years ago. My guess though is that they won't.
Martin Ward, CAP Manufacturer Relationship Manager
Want to receive notifications of these blogs in your inbox? Email webcontact@cap.co.uk and sign up today.