First Driving Impressions – Audi S6, S7, S8 – UK press event, Maidenhead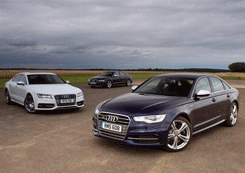 The quiet villages and rural landscape around Maidenhead is hardly the place to test three monster cars, but it's exactly this sort of environment where these expensive, powerful cars will end up living. The gated entrances to the manor houses is where you would expect an 'S' to be driven out of and when you rev it up first thing in the morning, there are no neighbours anywhere near to hear it. Audi have a series of cars that will appeal to the rich and famous, and maybe the not so famous who want a fully kitted out car that has plenty of power but doesn't look too outrageous. It's a car that's very understated.
The S6, S7 and S8 do have quite a lot in common, technically, but they all look very different. They are all powered by a 4.0 litre V8 petrol engine; all have Quattro four wheel drive; all achieve less than 30 MPG; all cover 0-62mph in around 4.5 seconds, all of them have an 8 speed auto gearbox and all have CO2 emissions of around 225g/km. The S6 and S7 produce 420ps and the S8 produces a massive 520ps, and all of them sound fantastic.
What they don't have in common is the design; they're all very different from one another. Having driven all three during the day, it's almost impossible to say which one would be my first choice, as all have some good points, but the most practical and useful, without looking too extreme, is the S6 Avant. With all that power and all that space, it's a good all-rounder.
The interiors on all three cars were sporty yet exquisite, with some exceptional materials used – absolute top quality.
The S8 packs a bit more power, but it's not really needed as 420ps is more than enough. It does sound fantastic though; the exhaust note sounds like something you'd find on a super sports car rather than a saloon. If you set off in one of these, it's guaranteed to turn heads.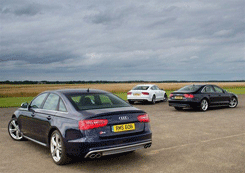 The S7 is half-way house between the S6 Saloon and S6 Avant; it's for those that don't want an estate car – they want a quick hatchback that has more versatility than a saloon. The level of standard equipment is very high, but it's easy to add a few options and increase the price by over £10,000. The S6 is priced at £56,050, but the test car we had had options on board that increased its cost to £69,780. Likewise with the S7; it carries a price tag of £61,995, but it had options that lifted its price to £78,150. Same applies to the S8; priced at £77,900, but the options took it up to £90,710.
Out on the country roads the cars were very happy at 30mph and were very controllable; they didn't feel the need to be raced and they were very docile. On the nearby M40 we got them up to 70mph in no time and they were just as comfortable sat at motorway speeds as they were meandering through the country lanes. I would imagine on the German autobahns they would reach their limited top speeds of 155mph very quickly.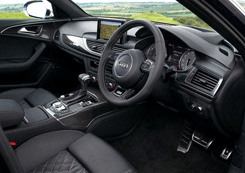 The interiors on all three cars were sporty yet exquisite, with some exceptional materials used – absolute top quality. Audi has managed to create a very unique cabin that really suits the car; it has a luxury look and feel to it, but it maintains a sports theme throughout.
These three S models were a joy to drive and with a small volume available for each, there should be a fairly strong demand for these luxurious beasts.