First Driving Impressions – Dacia Sandero/Sandero Stepway, European Press Launch, Malaga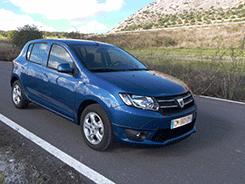 If Victor Meldrew was to be told about the Sandero, he would surely use his famous catchphrase.
The price of this car starts from £5,995, which is similar to what a Ford Fiesta 1.0 litre Popular 5 door was priced at in 1989. It's incredible, but true. So, just how bad is this bargain basement, cheap Romanian-built Supermini?
Before we get to that, how do you pronounce the company's name? The good people at Dacia in the UK say it like this: 'Dat-cher'. I asked the press department from France how they say it, and they said 'Day-che-yer'. I still prefer the good old way of saying 'Day-see-yer', and that is what I will continue to call it.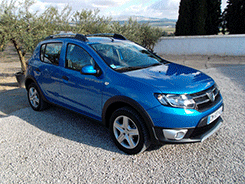 There are two distinct models in the range: the Sandero and the Sandero Stepway. The Stepway is basically a taller version of the Sandero. It has 40mm more ground clearance and some extra exterior features such as roof rails, front and rear skid plates, two tone bumpers, fog lights and black plastic wheel arch mouldings. It costs around £600 more than the standard Sandero and is well worth every penny, as it does look so much better being more of an SUV than hatchback. The interior and engine choice remain the same for both models.
It's a good few years since we had Dacias on sale in the UK, but since they were bought by the Renault Group in 1999, they have been available across most of Europe since 2004. Over 2 million have been sold in eight years, with 97% of them going to new customers and 3% for renewals to current customers. In France, 'Day-che-yers' are the fourth best seller, just behind the top three French manufacturers.
I think the biggest problem for the brand is that nobody can agree on how to pronounce its name.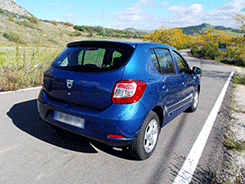 There's a choice of just three frugal engines available: an all-new three cylinder 0.9 litre TCe 90bhp petrol, a 1.2 litre 16V 75bhp petrol and a 1.5 litre dCi 90bhp diesel. CO2 emissions start from as low as 99g/km. We drove the 0.9 litre TCe petrol and 1.5 litre 90bhp diesel engines in Spain – the petrol being in the Sandero and the diesel in the Sandero Stepway. We drove on the motorways, up into the hills and through towns and villages, and found both engines to have more than enough power for everyday commuting. Up in the Sierra Nevada Mountains, the cars handled the inclines with ease and the brakes were more than adequate for some of the long downhill slopes. So, nothing wrong its engine or brakes.
There are three trim levels available in the Sandero:  Access, Ambiance and Laureate, but the Stepway does not have the Access available in its range.
The interior isn't the best quality in the world, but it's very acceptable, with the seats in particular being of a good standard as they're comfortable yet supportive. Despite it being a small car, there's plenty of room for five adults and their luggage.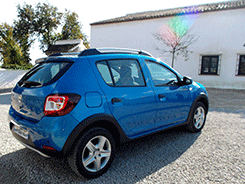 We drove both cars around Spain where the roads had varying surfaces; some were smooth and some were heavily potholed. We tried desperately to find things wrong with the car whilst driving it – we really put it through its paces – but we only thought a couple of things needed some attention. The wind noise is fairly high from around the windscreen and door mirrors (Dacia did tell us though that they're working on aerodynamics to improve it) and there's an exposed piece of sharp piece of metal where the boot catch is situated which could be a bit dangerous. However, I think the biggest problem for the brand is that nobody can agree on how to pronounce its name. 
Every car launch we do, we try and establish who will buy a regular £20,000 Hatchback, a £100,000 Sports Coupe or a £12,000 Supermini, and sometimes it's really hard to imagine just who will shell out all this money for what is essentially a very ordinary and sometimes dull car. We wonder if any of our friends or family would want one or could afford one and the answer is usually, no. However, the Dacia Sandero is different, as I can think of so many people this car would suit simply because it's so affordable. This car fills a much needed gap in the market with it being a good, spacious, reasonably well-built car that falls within many peoples' household budgets. Is this just a bad car from Romania? Absolutely not!
The Sandero is due in UK showrooms in late January 2013, with the Sandero Stepway following in June. Prices start from £5,995 and go up to just over £10,000. It's a bargain if ever there was one.