First Driving Impressions – Jaguar XF Sportbrake, International Press Launch, Edinburgh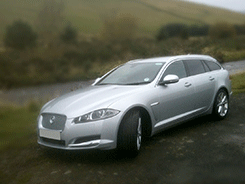 A strange name to choose for a very British car: Sportbrake. I've heard of a tea, coffee or lunch break, but Sportbrake? I know they're spelt differently and Jaguar marketers have tried to combine sportiness with the old Shooting Brake, but I'm not sure it works. Jaguar should maybe have stuck to their heritage and simply called it an Estate, and not tried to get too clever with it. However, for some countries – where the XF sells well – the name really is immaterial.
The XF Sportbrake, just like the Saloon version, is a pleasure to drive and you really cannot tell the difference between the two; both offer a fantastic ride and feel as solid as a rock. The 2.2 litre diesel engine has more than enough power and is very quiet; it's such a refined engine. The XF Sportbrake is only offered with a diesel engine, with the following being available: a 2.2 litre 163ps, a 2.2 litre 200ps, a 3.0 litre V6 240ps and a 3.0 litre V6 275ps, which accompanies the S variant.
The Sportbrake is an attractive car with some nice crisp lines and a distinctive sporty look.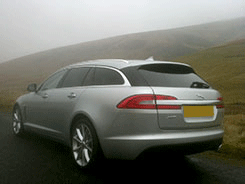 The car I drove around Scotland was the 2.2 litre diesel Premium Luxury that produces 200ps, goes from 0-60mph in 8.2 seconds and has a top speed of 134mph. We took it on some fantastic roads up into the glorious hills on a wet and misty day, so we were able to take some very moody and somewhat artistic photographs, which probably came out better than what they would have on a hot and sunny day.
Jaguar has been in need of an Estate for a while now to enable the company to compete with the German premium brands who have offered Estate versions of their popular Saloon cars for decades. The XF's main competitors will be the Mercedes-Benz E Class, BMW 5 Series and Audi A6, but now people are also buying cars that are even more practical and flexible in the form of SUVs and MPVs, so the list of rivals for the Sportbrake is endless. However, the Jaguar badge will certainly help to attract a good deal of customers.
The Sportbrake is an attractive car with some nice crisp lines and a distinctive sporty look. Above all, the Jaguar design team has ensured that the car doesn't look just like a Saloon with a bit added on; everything is in proportion and looks great.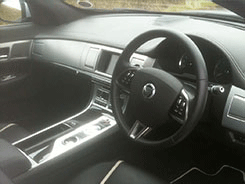 The interior is very much a Jaguar in terms of its style, being almost identical to the Saloon right through to the back of the rear seats. It's the area behind those seats where it is, as expected, very different, but the good thing is that the comfort and space of the rear seating area hasn't been compromised due to it being an Estate. With the rear seats up its luggage capacity is 550 litres and when folded down it increases to 1675 litres, making it a very useful and spacious area.
We started the day at Scotland's indoor climbing centre, which is built in an old quarry where some of the climbs did look a bit too high and scary. This indoor sports complex is used extensively by males, females, the very young and very old, but it wouldn't be my idea of a day's entertainment. We drove an XF Portfolio for most of the day, which managed to achieve around an average of 40 MPG – a  pretty good figure considering the journey we took and the types of roads we drove on. The car's official combined figure is 54.3 MPG and it carries a CO2 figure of 139g/km. The 2.2 litre engine is coupled to a very smooth 8 speed automatic gearbox that you can hardly notice when it changes up or down.
We had lunch at Floor Castle, which is a huge place owned and lived in by the Duke and Duchess of Roxburghe. It was built in 1721 and is a working house – like the Scottish equivalent of Downtown Abbey. When our colleagues from the rest of the world turn up to have their lunch, I am sure they'll take plenty of pictures and it will be a memory that will stay with them for the rest of their lives. Jaguar certainly did well to get the Duke and Duchess to entertain, feed and show people around their house over the course of a couple of weeks.
Jaguar will offer a four wheel drive option to some countries, but it's unlikely this will be available in the UK. Prices start from £31,940 on the road for the 2.2 litre 163ps SE diesel and go up to £51,505 for the 3.0 litre V6 275ps S Portfolio diesel. The 2.2 litre 200ps Premium Luxury model we drove costs £39,690 on the road.