First Driving Impressions – Kia Sorento, European Press Event, Barcelona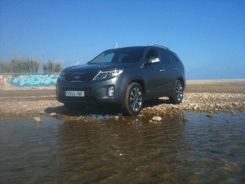 Kia are generally having a good time around the world at the moment, with sales progressing handsomely in the upward direction. So far this year, the Korean brand has sold over 33,000 cars in the UK and are on track to sell around 65,000 this year. Compare that to the number sold in 2008 – which was a total of 33,000 units – and the improvement over the last four years is blatant. In Europe, Kia sold 290,000 units last year and expect to top 345,000 this year. The company has a goal to reach over 500,000 units by 2016.
It's fairly difficult to spot the changes made to the car's exterior, but it has new lights, larger alloy wheels and has received a few minor tweaks here and there. The interior receives a new 7" screen and a new centre console. However, it's under the skin where the majority of the changes have occurred, as it has an all-new platform, wider track, lower ride height and revised suspension. The new platform has a more rigid body-shell, which is noticeable when driving the new car and this extra strength has improved safety, comfort and driving dynamics.
The quality of the Sorento – as we now expect on the new wave of Korean cars – is up to a very high standard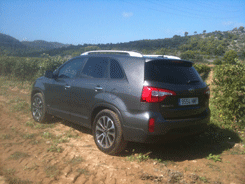 The improved suspension and platform do make it feel more solid, but it's still a people carrier where its driving characteristics are concerned; this is not a sports car, and cannot be driven like one. Up in the hills and on some of the meandering roads above Barcelona, it did wallow a little bit, but around the corners it did feel safe and stuck to the road without any problems. On the motorway it easily cruised at the limit of 130kph, with very little noise intrusion from the engine or the road, but the car's large door mirrors did cause a little bit of wind noise, which was a bit annoying, but with this being such a large vehicle, its large mirrors are needed and become especially useful during a reversing manoeuvre.
There is only one engine available on the Sorento: a 2.2 litre CRDi diesel that produces 194 bhp, goes from 0-60mph in 9.4 seconds and has a top speed of 118mph. It is available with either a 6 speed manual or 6 speed automatic gearbox – both are very smooth and very efficient. CO2 emissions have been reduced from the previous engine from nearly 200g/km to just over 150g/km, dependant on model and wheel sizes.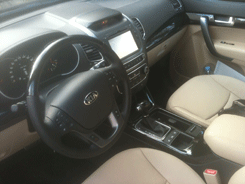 Four trim levels are being offered: KX-1, KX-2, KX-2 [Sat Nav] and KX-3. All models are 4WD and all come with seven seats as standard. The seats are very easy to operate, with just one hand needed to fold them up or down by pulling on a strap. When all the seats are folded flat, the load area really is huge. When the third row alone is folded flat, the luggage space is still very spacious and provides plenty of room for all five occupants' luggage. The seat system is very clever and does work well.
The quality of the Sorento – as we now expect on the new wave of Korean cars – is up to a very high standard, with fit and finish being as good as most premium cars. Every interior feature has a nice look and feel to it, and every switch and lever has a nice sound when you operate it.
The Kia Sorento may not have changed much in the way it looks, but after driving it on a variety of roads – and after testing its 4WD system on the beach – its ride and drive has improved and it was a very pleasant experience. It easily accommodates seven adults and the only question I had left was how good is the fuel consumption when driving in the real world? Sadly, we did not get a chance to test this so I cannot say how well it really fares.
Prices start from £26,495 and go up £35,095.