First Driving Impressions – Mazda6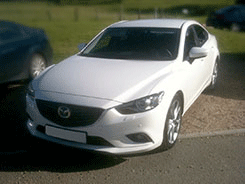 The latest Mazda6 model is all-new right from the chassis up and includes new technology. The original design of the concept car – called the Shinari – was brilliant and much of it was promised in the new Mazda6, however, like all concepts the real thing is always a watered down version and some of the interesting and exciting features tend to disappear. That said, the new Mazda6 is a huge improvement on the current model in terms of styling, quality and technology.
The new car will be available in three trim levels: SE, SE-L and Sport, with the SE offering a very good level of standard equipment. Its features include 17" alloys, air conditioning, trip computer, cruise control and front fog lights, to mention just a few.  A choice of four engines will be available: a 2.0 litre petrol with power outputs of 145ps or 165ps, and a 2.2 litre diesel with either 150ps or 175ps. The 2.2 litre diesel engine has a CO2 figure as low as 108g/km, so it's one of the best in its class, but despite its green credentials, some people will be put off simply because it's such a large engine, as a 2.2 litre does sound a bit too big in most peoples' opinions.
Much like its exterior design, the way in which it drives is a huge step forward and it's a very pleasant experience.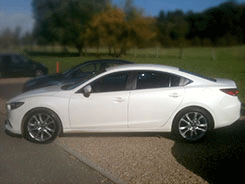 It's under the skin of the new Mazda6 where it gets very interesting, as SkyActiv technology has been used. SkyActiv is the new technology that Mazda engineers have been working on for years; they have studied every last part of the car by analysing and re-working every single part. Just about every component has changed in one way or another, with the aim to be more efficient or lighter.  The new car is around 75kg lighter than its predecessor, which has aided in offering quite a saving on fuel consumption and it outputs a lower CO2, which means savings on VED and company car driver BIK. This car is also the first to offer their new i-ELOOP (intelligent Energy Loop) brake energy regeneration system. The more established brake energy regeneration systems transfer the car's kinetic energy back into electrical energy in the battery when the car brakes. The i-ELOOP system uses a capacitor to store the energy instead of the battery, and because the capacitor can be charged and discharged quicker than a battery can, it allows more of the energy to be reclaimed.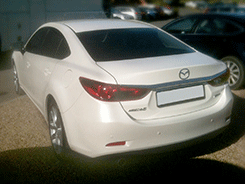 Mazda has taken the decision to have a saloon and an estate, but no hatchback variant. They say worldwide demand for saloons is much higher than hatchbacks, so producing a hatchback for a small number of countries where they're more popular due to their practicality and flexibility isn't worth their while in the extra costs of producing a car for the minority. However, they do offer a very good looking estate for those who want more room and a more practical, useable vehicle. Many in the UK will see this as a mistake by not offering a hatchback, but Mazda had to decide at an early stage of design that scale of production was more important than keeping a few countries happy.
We only drove the new car for a few minutes as there was only one available for testing and time was tight, but in that short period of time, we felt that the new Mazda6 was solid and very quiet. Much like its exterior design, the way in which it drives is a huge step forward and it's a very pleasant experience. We test drove the 2.2 litre diesel fitted with a new automatic gearbox, which was quick, quiet and effortless.
Mazda expect to sell around 7,500 units per year, with first deliveries due in January 2013. Prices will start from £19,540 for the 2.0 litre SE Saloon.