First Driving Impressions – Mini Clubvan, Oxford
My very first company car back in 1971 was a Mini Van – I say company car; it was actually the parts van that I was allowed to take home every night (even on weekends), and I had to make sure it was back at the garage every morning to do its day job. When the Mini Van was discontinued in 1982 I thought I would never drive one again, but last week I drove the latest version of the Mini Van, which is now called the Clubvan.
this van will no doubt be used more for marketing rather than just being a conventional load carrier.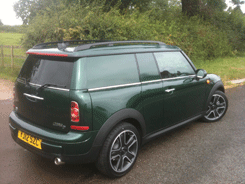 The Clubvan is based on the Mini Clubman. It still has the rear windows, but they're covered in a strong material on the inside, with a body coloured material covering the exterior to protect the glass from damage. The doors on the driver's side remain, but they don't really serve any useful purpose. The rear seats have been removed and the whole of the load space is covered in high quality carpets; it's probably not the best material to be used in a load carrying area, but they do look and smell nice. A plastic load liner is currently being worked on by Mini to prevent these and the load area in general from being damaged when carrying goods.
The Clubvan's payload is 500kg and it has a total luggage space of 860 litres, so it's not large, but big enough for small items to be transported in luxury. It's a good way for small businesses to promote themselves; this van will no doubt be used more for marketing rather than just being a conventional load carrier.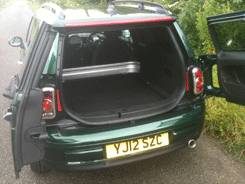 There is a mesh bulkhead as standard, which will stop any items moving forward into the passenger area. This bulkhead can be removed if desired to create room for longer loads, but removing it isn't an easy task and it does take some time.
The following engines are available on the Mini Clubvan: a 1.6 litre 98ps petrol, a 1.6 litre 122ps petrol, a 1.6 litre 112ps diesel and a 2.0 litre 112ps diesel. The 1.6 litre 98ps unit is for the Mini One variant; the other three are for the Cooper.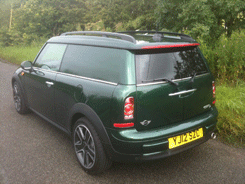 We drove the Clubvan around the country lanes of Oxford and as you may expect, it drives exactly like the Clubman and doesn't have the characteristics you'd expect from a typical van. There were no squeaks, rattles or any noises coming from the load area; it was perfectly quiet.
Prices for the Clubvan start from £13,930 and go up to £18,045 plus VAT. As I mentioned earlier, this van will certainly appeal to small businesses who want to use it for advertising, so it's very clever in that respect. It will no doubt hold its value better than its competitors, however, the load space is a bit limited. It will sell in small numbers and will never reach the hey days of the 1970s, but it will find customers in this niche sector of the small premium van market. It isn't big, but it is clever.