First Driving Impressions – Porsche Boxster and Boxster S, UK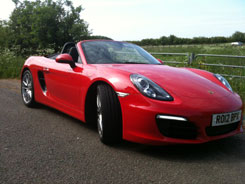 The original Boxster was launched in 1996 and was aimed at people who wanted to own a Porsche, but at a more affordable price. Up until 2003 it was the biggest volume seller until the Cayenne was launched; it has been, against the odds and Porsche's critics, a great seller for the company and many believe it saved Porsche from going to the wall.
The all-new car certainly carries on the company's heritage of a true two-seater sports car, with its styling being every bit a Porsche. The new Boxster is 32mm longer, the wheelbase is 60mm longer and the height has been reduced by 13mm, giving it a lower centre of gravity.
There will still be two models available: the Boxster and the more powerful Boxster S. The standard car is powered by a 2.7 litre petrol engine that produces 265ps, goes from 0-62mph in 5.8 seconds and has a combined fuel consumption figure of 34.4 MPG. The S has a 3.4 litre petrol engine that produces 315ps, goes from 0-62mph in 5.1 seconds and has a combined fuel consumption figure of 32.1 MPG. The new car is certainly more fuel efficient and has lower CO2 emissions; this has been achieved primarily by having a 30kg reduction in weight, and the addition of start/stop technology.
The all-new car certainly carries on the company's heritage of a true two-seater sports car
The exterior design is still very much a Boxster, but it has all new panels, lights and larger air intakes which make it look more sporty and aggressive. The new car now gets its own specifically designed doors (the outgoing models' were borrowed from the 911) and how much better they look with their crisp swage lines.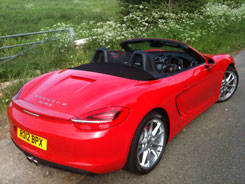 The interior has also been redesigned and does have a more premium look and feel to it. The handbrake is now electronic and is situated on the lower part of the dash to the right of the steering wheel, which is not the most convenient place and I imagine many Porsche owners will be disappointed that the conventional handbrake has gone forever.
Despite the Boxster being around for 16 years, it still looks fresh and surprisingly still attracts attention from other drivers and pedestrians, which must be a good thing.  Porsche has managed to re-invent the Boxster by improving its design, its quality and by making it more eco-friendly, yet it has still kept its traditional styling. It's a great car to drive and you know it will still be worth a lot of money in many years' time.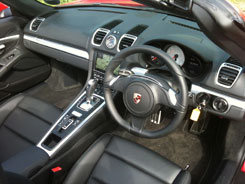 I drove both cars on motorways, through towns and on some very nice country roads from the Porsche UK HQ in Reading to the hotel in Cheltenham, and with this type of driving, I have to say that there was very little to choose between the two. Neither seemed particularly powerful and not the sort of car that throws you back in your seat, but there's enough power available to get you away from traffic lights and T-junctions without any hesitation. On the open road the Boxster is a pleasure to drive; it's so comfortable and it rides bumpy roads effortlessly. I actually expected a very different experience as I usually find such cars have a hard and uncomfortable ride, but I was pleasantly surprised to find this was not the case. The roof now has an extra layer of insulation to help reduce noise and it goes up and down easily in just a few seconds.
Prices for the new Boxster start from £38,104 on the road and the Boxster S from £46,039, but it's very easy to add another £5,000 or more in options from their extensive list.