First Driving Impressions – Vauxhall Astra VXR, UK Press Launch, Rockingham
Although the event was based at the Rockingham Circuit near Corby, I only took the Astra VXR out on the local roads, as the thought of going around a race track in a 280ps car was a little too daunting. Not too long ago I would have been at the front of the queue, but a more sedate drive around the countryside is now more my idea of a nice test drive.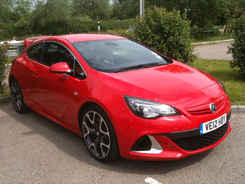 The Astra VXR is based on the Astra GTC, so I think Vauxhall would have been in a better position calling it just the GTC and not Astra GTC. Vauxhall GTC VXR would have been a great name and would have suited it so much better; it would have made it just a bit more exclusive. The car has received a raft of bespoke chassis modifications to cater for the significant boost in performance. Setting it aside from all other Astra models is a specially developed mechanical limited slip differential on the front wheels. Further changes to the chassis include brakes developed by Brembo, uprated springs and new dampers developed by VXR and ZF Sachs.
The Astra VXR is powered by a 2.0 litre 16V turbo direct injection petrol engine that produces 280ps, goes from 0-60mph in 5.9 seconds and has a top speed of 155mph. The VXR isn't ultra-quick, but it's fast enough. Considering the amount of power it has to offer, it doesn't throw you back in your seat every time you set off; it's gentle when you want it to be and fairly docile in everyday traffic. You can drive it just like any other car and it's as happy at low speeds as it is at high. It's a high performance, eye-catching sports hatchback that has been seriously worked on by GM and all its specialist partners. Plenty of racing heritage has gone into the building of this car.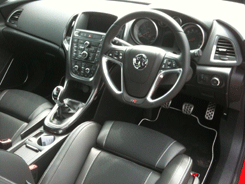 The standard upholstery is half black Track cloth with half Morrocana fabric, but for £1,150 the customer can buy a Leather Pack which comprises of multi-adjustable electric front seats and full leather seats with the VXR logos, which on this type of sports car would be money well spent. The other option worth having has to be the VXR Aero Pack, which includes a rear roof spoiler, extended side sills and 20" 5 Y spoke forged bi-colour alloy wheels at a cost of £995. This really should be a specific model and perhaps called VXR Aero.
This three door sports hatchback is a comfortable place to sit whether you're in the front or the rear; it isn't as harsh as I had thought it would be. The car we drove was fitted with the optional leather upholstery and the whole cabin just looked and felt like high quality. Getting in and out of the rear is reasonably easy, but like any car of this nature – with its large front sports seats and limited head room – the gap between the front and rear is a bit narrow, but it's manageable.
The Astra VXR is powered by a 2.0 litre 16V turbo direct injection petrol engine that produces 280ps, goes from 0-60mph in 5.9 seconds and has a top speed of 155mph.
Out on the roads around Corby, you can't really put this car through its paces and drive it like it's supposed to be driven. These are public roads and 99.9% of the time VXR owners will be on public roads, so it's best to try it in its natural habitat. It performed really well, dealt with bumps in the road with ease and didn't try to shake you to bits on uneven surfaces.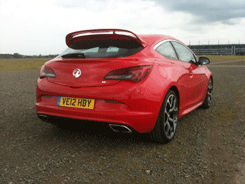 Its CO2 emissions figure is 189g/km – which is fairly low for this type of car – and its combined fuel consumption figure is 34.9 MPG. We achieved an average of 30.1 MPG, which we thought was a good result.
The Astra VXR has some strong competitors which include the VW Scirocco R, Renault Megane Renaultsport 265 and the Ford Focus ST when it arrives in the UK. The price of the Astra VXR is a very reasonable £26,995 on the road, but add the Aero Pack and Leather Pack and it easily increases to over £29,000.