First Driving Impressions – Volvo V40 D3 SE Lux Nav, UK Press Launch, Manchester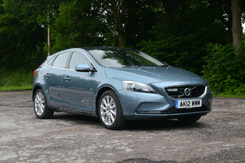 We stayed nice and local for the all-new V40 launch, just over the hills from Yorkshire in Lancashire. A C sector premium hatchback is something that Volvo has needed; it's been a long time coming, but it has arrived just in the nick of time, as this sector is really hotting up with some brilliant cars on offer.
The V40's main competitors are the BMW 1 Series, Audi A3, Lexus CT200h and the all-new Mercedes Benz A-Class, but the VW Golf and Alfa Giulietta could also be included. The V40 is well built and the level of quality is very high, especially in the interior where there are some nice touches; it certainly deserves to be called a premium car. Interior space is generous, with plenty of rear leg room for this size of car, but getting in and out of the rear is a bit tight as the door opening narrows towards the lower sill.
A C sector premium hatchback is something that Volvo has needed
The car we tested on the press launch was the D3 SE Lux Nav. The D3 diesel engine produces 150ps, goes from 0-62mph in 9.6 seconds and has a CO2 emissions figure of 114g/km. Its official combined fuel consumption figure is 65.7 MPG, but it was difficult to get a true figure on the short distance we travelled around Manchester. The D2, D3, D4 badging policy is still  a bit of a mystery to me, and I suspect it's the same for many others when trying to understand it, but no doubt one day it will sink in and we'll all become familiar with it.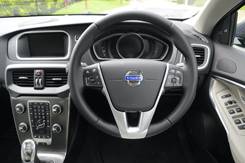 The new V40 is certainly a good looking car; it looks great from every angle, it's all in proportion and looks sleek and stylish, but still remains distinctive as a Volvo. Some might think the design is rather predictable and some may believe the Volvo badge isn't modern enough for younger drivers who the brand are trying to attract; these will be the people who will continue to buy German brands that give the impression of being a more modern and desirable form of transport. Volvo – in many peoples' eyes and opinions – represent the ultimate in ultra-safety, at the expense of being a bit dull. The new V40 is safe, and to some non-Volvo drivers will still be regarded as dull just because it's a Volvo. This is something Volvo will just have to live with, no matter how it looks.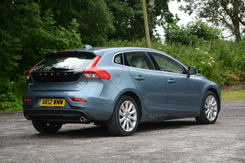 The styling is let down by having three water nozzles on the bonnet for cleaning the windscreen, which do look out of place and are almost a bit of an afterthought. However, Volvo say that this has been done because of the angle of the screen and to help pedestrian safety with the bonnet's airbag.
  
You could travel long distances in the V40 quite easily, as its seats are supportive and comfortable. The boot size is average for this sector and the load height is good for putting in parcels, bags of shopping and luggage.
The V40 D3 SE Lux Nav is priced at £25,740.