First Driving Impressions – Audi A3 Sportback, Monaco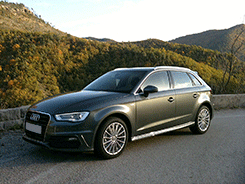 The all-new Sportback is slightly longer, wider and taller than the current car, and its wheelbase has increased by 58mm (around two and a half inches), which doesn't sound much, but it does make quite a difference to the car's interior space. The extra legroom in the rear is instantly noticeable and gratefully appreciated; it gives the impression that the car is much larger and offers a nicer place to sit when travelling long distances.
There's very little to criticise when it comes to the new A3 Sportback; it's almost perfect in all respects, but the only area we could find minor fault with was the black plastic surrounding the dash air vents. They're a little low in quality and feel a bit flimsy, which just isn't what you expect when it comes to Audi. However, absolutely everything else in this car is certainly top class, with the fit, finish and materials used being superb.
Audi has got it right again: the new A3 Sportback does everything it should do and more besides.
The following engines will be available at launch: a 1.4 litre TFSI 122ps petrol, a 1.8 litre TFSI 180ps petrol and 2.0 litre TDI 150ps diesel. A 1.6 litre TDI 105ps will follow in May, and in summer there will be a 1.4 litre 140ps with Cylinder on Demand (CoD) technology and Quattro versions. Later in 2013, the S3 Sportback will go on sale.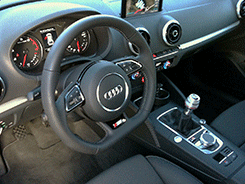 We drove the 2.0 litre TDI and the 1.4 litre TFSI CoD in France, but couldn't manage to get into the 1.6 litre TDI. This car was in high demand on the event, as it will be the best selling engine. The 2.0 litre TDI is silky smooth and as always is a real pleasure to drive; it's such a quick, quiet and refined engine. The 1.4 litre TFSI CoD is also a brilliant engine and you really don't notice when it switches from 4 cylinders to 2. If you turn off the navigation system, a small display in between the rev counter and speedo displays the message '2 cylinder mode'. We were surprised just how often it did switch to 2 cylinder mode – even under acceleration it didn't need all four cylinders. It's a great piece of engineering and I'm sure it won't be long before it's available in other VW Group vehicles and offered by other manufacturers. We didn't get the chance to carry out any reliable MPG tests, but when we get a test car with this system fitted, we'll be able to see whether or not it really does save fuel or is just a bit of a gimmick. If this engine does do what it says on the tin, and is as good as a diesel, then buyers might just switch from diesel to petrol.
This is the third generation 5 door A3, with the first being introduced in 1996. The second generation was introduced in 2004 and deserved to be badged as something different as it had its own identity and wasn't just a 5 door  version of the 3 door – the Sportback was born. This latest generation has a completely new platform, chassis, body and interior design. It's lighter than the current model and has new and more efficient engines. The Sportback just gets better.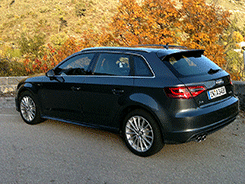 The car's exterior design is bolder and has some nice sharp lines – especially the shoulder line which looks quite dramatic. The bonnet now features some deep folds which give it a more aggressive front end and the new headlights have a more interesting shape rather than them being traditionally oblong. There are numerous systems available on the new car that can help the driver to park it and make it safer, and there are some really nice technology features available such as the Google sat nav system. This shows the map as you would see it on Google Earth, with real life images rather than just a standard map. It's all very clever, useful and easy to use.
Audi has got it right again: the new A3 Sportback does everything it should do and more besides. It's well built, looks great and the design is a huge step forward.
The Sportback is priced at £620 over the 3 door version, with prices starting from £19,825 and going up to £27,180 on the road. First UK deliveries will commence in March 2013.