First Driving Impressions – Audi RS6 Avant
24/07/2013
—
CAP Marketing
UK press event, Ascot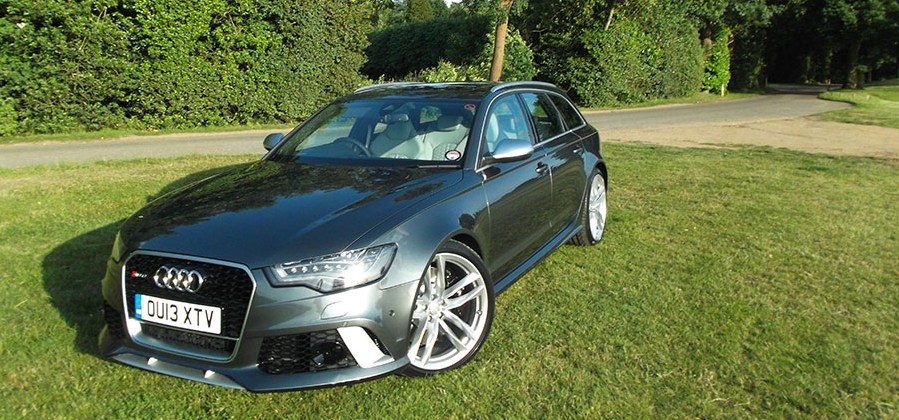 Audi chose Ascot to hold the RS6 press event, which is nice and local for the southerners, but a bit of a trek for us 'up-north'. As it turned out, it was well worth the 420 mile round trip. As nice as Berkshire is, it is not really the right place to test a monster of a car, an autobahn in Germany, up in the hills above Nice, or on the twisty mountain roads in Northern Italy would have been much better. But Ascot and the surrounding area it was, and there was nothing we could do about it, we just had a keep a very keen eye on the speedometer to ensure we didn't break the law.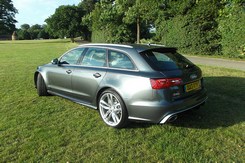 Unfortunately breaking the speed limits in the RS6 is very easy to do, and you have to be so careful when driving it, ultra-careful in fact. The RS6 goes from 0-62 mph in an incredible 3.9 seconds, and has a top speed restricted to 155mph, which can be derestricted to 189mph if required. It is powered by a 4.0-litre twin-turbo V8 TFSI petrol engine that produces 560ps, and is coupled to an eight-speed tiptronic automatic transmission, with shortened shift times. The engine, believe it or not has Cylinder-on-Demand (CoD) which enables the engine to run on four-cylinders at low revs, and helps reduce fuel consumption. With all that power though the C02 figure is not exactly low, being 229g/km, but on a positive note it is an improvement of 31% over its predecessor.
To get all that 560ps onto the road the RS6 is helped with the use of Audi's Quattro all-wheel drive system, and when you are driving it you can feel all the power going straight to the tarmac, which gives it outstanding traction. This system does make the car feel very safe and secure, and although the roads were dry when we tested it, I can imagine it would be just as good in the wet and on slippery surfaces. Maybe too good in fact as you could be tempted to push it too hard.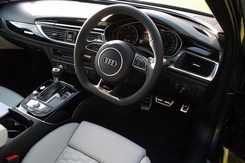 There is an intensive use of lightweight materials, with over 20% of the body being aluminium, resulting in a weight reduction of around 90 kilograms, compared to the previous model. The interior is exquisite with some fantastic leather upholstery that looks, feels and smells extraordinary and brings real luxury to this sports estate. In fact the quality throughout this car is up to, and maybe even beyond typical Audi standards in many areas. The list of standard equipment is endless and even air-suspension is standard.
All this power and luxury does come at a price though as prices start from £76,985. Add a few extra bits of specification, and you can easily get over £90,000.
To sum up the RS6: It is a super-powerful, great looking estate that comes with a high price tag, but does everything you would expect it to, and more besides. It is available to order now, with first customer deliveries expected in August.
Martin Ward, CAP Manufacturer Relationship Manager
Want to receive notifications of these blogs in your inbox? Email webcontact@cap.co.uk and sign up today!