First Driving Impressions – BMW 3 Gran Turismo
28/05/2013
—
CAP Marketing
The first Generation 3-Series was only available as a saloon when it launched back in 1975 and ran until 1985. It wasn't until the MK2 was released that Estate and Convertible models became available, with the Coupe being added when the MK3 was introduced. Now the 3 Series family has grown again with the introduction of a five-door Hatch back called the Gran Turismo.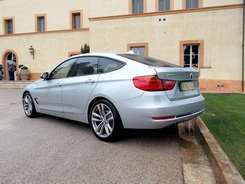 When we first heard about the 3 Series Gran Turismo and saw the original BMW photographs, we thought it was pretty pointless. Why had BMW bothered with a hatch version of the ever-popular 3 Series? Would there be any demand for such a car that is a bit niche, a bit undesirable and following in the footsteps of the not so popular 5 Series Gran Turismo? Could it be a disaster for BMW UK? Did they really need to make it?
We picked up the cars from a Military Base in Tuscany, as the original plan to fly into another local airport was thwarted because of technical issues. Once we landed we were off in the new BMW 3 Series Gran Turismo to tour the wonderful scenery around Siena.
The cars available to test were the 318d manual and 328i automatic, which was a bit disappointing as we expected the 320d to be there as this should be there best-selling engine.
You could be forgiven for thinking that the 328i petrol would have a 2.8 litre engine, but it is actually a 2.0 litre. However it is turbocharged, produces 245hp, goes from 0-62mph in 6.1 seconds and has a combined fuel consumption figure of 44.1mpg.
Later in the day we drove the 318d and were expecting to be disappointed, we weren't in fact - we were thoroughly surprised by it, so much in fact that it actually left us asking why you would even spend more money for the 320d!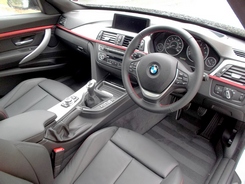 The 318d produces 143hp, goes from 0-62mph in 9.7 seconds and has a top speed of 130mph. C02 emissions on the manual are 119g/km and it has a combined fuel consumption figure of 58.9mpg which all adds up to a positive set of figures which should suit fleet customers and make a good used car.
The Gran Turismo has more interior space than the other 3 series models; this is because it is based on an extended platform taken from the Chinese 3 Series which has a longer wheelbase. This means the 3 Series Gran Turismo is 200mm longer at 4,824mm giving it much more interior space and 75mm more rear legroom than the saloon or the Estate.
During the journey I did sit in the rear for quite a while and I found it to have loads of room. The 3 Series Gran Turismo also has the added advantage of partially reclining rear seats which added luxury and comfort, and meant I could really stretch out. We also found that despite sitting so far from the driver, the acoustics were brilliant as you only had to talk at normal levels to be clearly heard.
Well after driving the 3 Series Gran Turismo for many miles, having a good look around it, and understanding what sort of people need and buy this type of Premium car it becomes clear that there is a market for it. BMW have been brave in bringing out this model and whoever signed it off deserves a pat on the back.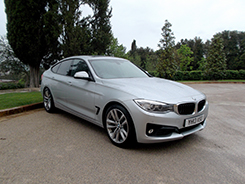 The 3 Series Gran Turismo is a great car to drive, it is fun, has enough space for five adults and has a huge boot. I've gone from being not so sure about this type of model to being totally converted. I just hope the British public will be as convinced.
BMW currently sold around 29,500 saloons, 7,000 Touring's, 5,000 Coupes and 3,200 Convertibles in 2012; they expect to sell around 4,000 Gran Turismo's which seems easily achievable.
The model line-up is: SE, Sport, Modern, Luxury, and M Sport. Prices start from £28,605 and going up to £39,735. Prices of the 3GT are around £1,300 more than the Touring and £2,600 more than the saloon.
Martin Ward, CAP Manufacturer Relationship Manager
Want to receive notifications of these blogs in your inbox? Email webcontact@cap.co.uk and sign up today.