First Driving Impressions – Chevrolet Trax
08/05/2013
—
CAP Marketing
If you think that SUV's are a modern invention, then think again, as Chevrolet can boast they were the pioneers of the Sports Utility Vehicle. Their first SUV, the Suburban Carryall was launched in 1935 with newer models being introduced right up until the 1990's, where it was eventually replaced by the Chevrolet Tahoe.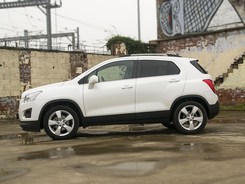 These are all the grandparents of the car we were driving in Croatia, so the Trax has a lot to live up to. The SUV is regarded as a way of personal mobility; its mission is to carry people plus their luggage to rugged remote locations for work, leisure or adventure. It is also a vehicle for school runs and shopping, meaning the SUV is supposed to be a good all-rounder. So is the Trax an SUV?
The Trax is a great looking car, and is very appealing. It looks good from every angle and the large front grille with the Gold Chevrolet Cross is bold, brave and very muscular, and the haunches over the front and rear wheels give it a wide stance look. All these features make the Trax look very distinctive and it does stand out in a crowd, in my opinion the designers have certainly got it right.
The Trax is produced in South Korea and we found it to be generally well built. The plastics on the dash are soft-touch which look good and feel nice, but the door panels are a bit hard and are not quite up to the same standard as the rest of the interior. The seats are comfortable and supportive and there is just enough room in the rear for three adults to sit, but these seats are more suited for children. The luggage space is adequate and you can easily get the weeks shopping or a couple of large suitcases in the boot and if you drop down the rear seats there is up to 1,370-litres capacity.
The Trax is available with a choice of engines: 1.4 Turbo petrol producing 140hp, 1.6 petrol producing 115hp and a 1.7-litre diesel that produces 130hp. Some models are available with either front wheel drive or All Wheel Drive, and the lowest C02 emissions are on the 1.7 diesel 2WD which produces 120g/km.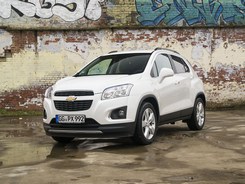 The dimensions of the Trax are: length 4,248mm, width 1,766mm, wheelbase 2,555mm and height 1,674mm, but the interior space seems much more than these dimensions would have you believe.
We drove the Trax around Zadar on the west coast of Croatia around some of the most breath-taking views of jagged coastline, mountains and beautiful lakes. This place is so unspoilt and spectacular it is almost a place that time has forgotten. We went on the motorways there, that are almost perfect, they are so smooth with no ridges, potholes or cracks and we found the Trax to have more than enough power and more than able to cruise at 130kph, with very little road, wind or engine noise in the cabin.
We used, and may I add very successfully, Chevrolets new 'MyLink' technology which provides easy access to your phone book, personal playlists and photo galleries via your Smart Phone. You can also use an application called 'BrinGo' we provides easy satellite navigation to the MyLink system through an app which can be downloaded onto certain Smart Phones. To operate BrinGo you simply connect your Smart Phone to the MyLink system using a USB port located in the glove-box. Then after a few seconds when your smart phone is connected to the MyLink system you can then select the Sat Nav application and input your destination. The route is then quickly calculated and the turn-by-turn directions are shown on the MyLink screen. As this technology is run through your Smart Phone it means you don't need to have a Sat Nav system fitted to the car, which makes the MyLink system extremely affordable, and very easy to use.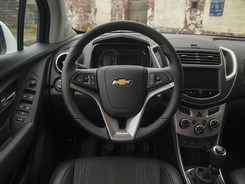 The Trax is built alongside its cousin, the Vauxhall/Opel Mokka, which is already proving to be a success in Europe, but is actually causing GM some problems as demand is outstripping supply. To get around this the Chevrolet factory is gearing up from two-shifts to three to try and keep up with predicted sales.
Like other small SUV's in this growing sector, the Trax is easy to park, has loads of room packaged in a small space, is economical, practical, and versatile and oozes character and cuteness at the same time. All of this will make the Trax appeal to male and female, young and old.
Is the Trax a proper SUV, will it do all the things it is supposed to? Well… yes, but on a reduced scale, as this is after all a Compact-SUV.
Martin Ward, CAP Manufacturer Relationship Manager
Want to receive notifications of these blogs in your inbox? Email webcontact@cap.co.uk and sign up today.