First Driving Impressions – Ford Fiesta, UK Press Launch, Trafford Park, Manchester
First Driving Impressions – Ford Fiesta, UK Press Launch, Trafford Park, Manchester
Ford chose the Northern Imperial War Museum to launch the latest version of the Fiesta; a strange place perhaps but it did have plenty of parking spaces for guests and all those new Fiestas. The venue is a few hundred yards from the first Ford plant to be built outside the US where production started on the Model T in 1911, so the area is very important for Ford and it has a lot of history and heritage. Unfortunately this factory doesn't exist anymore and any remains of it are long gone.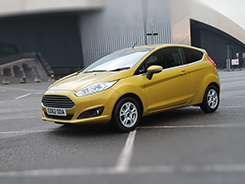 The original Fiesta was launched in 1976 with over four million being sold in the UK and fifteen million worldwide, showing just how much of a success this model has been for Ford. This latest generation sees many changes but the main one that sets it apart from any of its predecessors is the 5 bar chrome front trapezoidal grille, which is very Aston Martin in its appearance and looks great. The designers have got the exterior absolutely right with everything being in proportion on both the three door and five door body styles – not an easy to task to undertake on a small car. The front end also has new modern laser cut headlights with LED running lights and a powerdome bonnet design which makes it look very aggressive and distinctive.
The interior has received a major makeover with a new dash and relocated electric window switches, heated seat switches and interior door handles. New seat fabrics and designs are offered with high quality leather, part leather, comfort fabric and sport fabric trims. New and improved storage features and a concealed load space under the boot all add to the versatility of the Fiesta.
MyKey enables the user to limit the car's top speed, to set an appropriate audio volume level and to override the deactivation of driver assistance.
The new Fiesta debuts its latest feature called MyKey in Europe which enables parental/guardian owners to place certain restrictions on young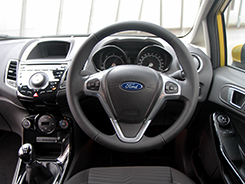 drivers to promote safer driving. MyKey enables the user to limit the car's top speed, to set an appropriate audio volume level and to override the deactivation of driver assistance. It can also give an earlier warning of low fuel and chimes can be set at various speeds between 40mph and 80mph. Ford say that young drivers are not so keen on MyKey until they learn that it often improves their chances of their parents allowing them to drive the car by themselves. 
A good selection of engines are available in the Fiesta: a 1.0 litre EcoBoost petrol (with 100ps or 125ps), a 1.0 litre 80ps petrol, a 1.25 litre petrol (with 60ps or 82ps), a 1.5 litre TDCi 75ps diesel and a 1.6 litre TDCi 95ps diesel. These engines are all very economical; particularly the 100ps EcoBoost engine which has a CO2 emissions figure of only 87g/km.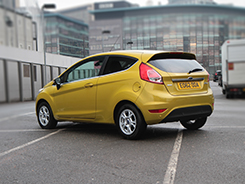 Out on the roads around Manchester the new Fiesta drove just like the previous Fiesta; it is still good and refined, with road noise being minimal and the ride comfortable. The manual gear shift is slick and effortless, displaying yet another example of how Ford have got this car just right. We drove both the 1.6 litre 95ps diesel and the 1.0 litre 100ps EcoBoost petrol and found them to have more than enough power. The perky little 3 cylinder 999cc turbo petrol engine is a pleasure to drive; it doesn't feel like it's ever under pressure or about to run out of steam.  
The model line-up is Studio (which is available as a 3 door and with the 1.25 litre 60ps engine only), Style, Zetec, Zetec S, Titanium and Titanium X, which is introduced for the first time on the Fiesta and offers a lot of standard specification and comfort in a small car.
Prices start from £9,795 and go up to £17,545.