First Driving Impressions – Honda CR-V 1.6 i-DTEC
31/07/2013
—
CAP Marketing
European Press Launch, Prague

CR-V 1.6 i-DTEC
The all-new Honda CR-V has been on the UK market for a few months now, with the 2.2 i-DTEC being the only diesel engine available. This model produces 150ps, has a combined MPG figure of 50.4, C02 emissions of 149g/km, weighs 1670kg unladen and is only available with 4WD.
This is the fourth generation CR-V, with the first one being launched in 1995, the second in 2001 and the third in 2007. Over 5 million have been sold worldwide meaning the CR-V has been a big success for Honda. The latest model is currently being built at nine different plants, and sold in 160 countries, with the factory in Swindon building the CR-Vs and the engines for the UK and Europe.
Joining the CR-V range is the all-important Honda 1.6-litre i-DTEC diesel engine, which produces 120ps and is coupled to a very smooth 6-speed manual gearbox. This all-new engine has come just in time for Honda, as they need it to be competitive in the fleet and corporate sector.
Despite the CR-V looking every bit an off-roader and a handsome SUV, the 1.6 diesel is in fact only available with 2WD, with no plans for an AWD to be introduced. Some may think that this is disappointing, but it's not a bad thing as the benefits of lighter weight, lower C02 and improved MPG by it being 2WD far outweigh the benefits of a heavier, thirstier 4WD model.
"The price for this low CO2, multi-purpose, good looking SUV is around £,2000 less than the equivalent 2.2d AWD, which will no doubt become a firm fleet favourite"
Up until not long ago, the C-Sector estate was the thing to have, as they have lots of room for luggage and bulky loads. Then the Crossover was invented, which offers more internal space, a higher driving position and are generally better looking vehicles. They were only available with 4WD though, but then came the 2WD versions, which were more economical and generally cheaper to run. This new breed of flexible cars are taking business and sales away from the traditional estate, as they are about the same external size as the estate, make much more practical sense, are not much more money new and generally make much more in the used market.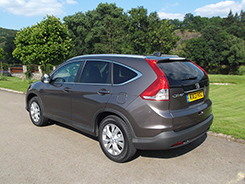 We got to Prague thinking the 1.6-litre diesel producing 120ps in a relatively large Crossover would be underpowered and not very pleasant to drive. We left the airport to go on the motorway and up into the countryside where the roads were not brilliant, and there were some fairly steep hills to climb. The UK produced 1.6-litre diesel engine surprised us as it was not lazy at all, and was actually very good in most conditions. It was a bit slow when accelerating in a high gear on motorways and dual carriageways though, and when you put your foot on the accelerator not much happened for a while, but we quickly learned to change down for a quick-get-away, and once we realised this there were no more problems, you just have to work the gearbox to maintain speeds.
Up in the hills it was a great car to drive, it was nimble and handled corners really well for the sort of car it is. We had to remember though that this is an SUV and not a sports car, and a tall, heavy vehicle it is never going to go around bends in the same way as a car designed more for handling, than for carrying five people and their luggage in comfort. If the customers want a more sure-footed vehicle that goes around corners with little or no body roll, then the CR-V or other similar vehicles are not for them, but if it's a good-all-rounder that is needed then this type of car is perfect.
The commanding position is a real bonus, especially when we drove it around the busy streets of Prague. You can see much further ahead, with gives many advantages, especially in an unfamiliar place, as you can see traffic lights, turnings and roundabouts much sooner, which does help with your navigation. Also out in the country it gave us the benefit of being able to see over the walls, and hedges which helped open up the view and make the drive a more pleasant experience.
The interior has high quality materials and all the buttons, switches and levers are all in the right place and easy to use. The rear seats are easy to put down and back up again, and fold flat to give a lot of useful space.
The official combined mpg figure is 62.8mpg for the 1.6 diesel, compared to 50.4mpg for the 2.2, which is a significant improvement. But during the time we drove the car in the Czech Republic we got around 5.8-litre per 100km (we could not find a way on the trip-computer to convert to MPG) but it equates to around 48.6mpg.
More importantly though this will be a good used car, as it offers so much in terms of space and economy.
Martin Ward, CAP Manufacturer Relationship Manager

@MartinW_CAP 
Want to receive notifications of these blogs in your inbox? Email webcontact@cap.co.uk and sign up today!