First Driving Impressions – Jeep Grand Cherokee
12/06/2013
—
CAP Marketing
To see the latest version of this Jeep we went to the impressive Chrysler HQ building in Auburn Hills near Detroit, which is the second largest building under one roof in North America. The Chrysler HQ houses everything from design, sales and marketing, engineering, accounts, parts, wind-tunnels and even a mini-production line. This huge building is designed just like a shopping-mall; there are various levels, long walk-ways and many escalators all of which makes it a very clever way of housing over 13,000 employees.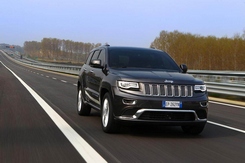 The Chrysler Jeep Group is now a subsidiary of Fiat Automobiles of Italy. This means that Chrysler now share many practices and components with Fiat which has turned out been a saviour for Chrysler and even taken them out of bankruptcy, which has caused a huge sigh of relief in Auburn Hills.
On first looks the new Grand Cherokee doesn't look much different to the outgoing model, but put the two side-by-side and the difference is quite apparent. However this is still more of a face-lift than a new model. The exterior has been improved with the use of less chrome and new distinctive LED running lights, as it gives this new model more of a premium look. And while some may not like the loss of chrome, most people will appreciate the more subtle styling. The interior looks much better with improved plastics and more of a premium and quality feel to it, especially as a new 8.4 inch multimedia screen is standard in all the new models, which is easy to use and very clear.
We drove the Grand Cherokee on a fairly short journey, but immediately noticed that the ride was a bit more firm than the previous model, and more designed for European roads and bends, as opposed to American roads that are on the whole fairly straight. This eliminates a lot of the lolloping, rolling feel that we had experienced on the previous model and is overall a massive improvement. Another massive improvement over the old model is a very nice and smooth new 8 speed automatic gearbox, which has a much smaller and neater gearshift lever and moves up or down the gears effortlessly.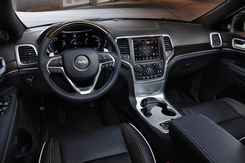 The 3.0 litre diesel fitted to the Grand Cherokee coupled to the new 8 speed automatic gearbox has more than enough power and acceleration for a vehicle of this type. It produces 250 BHP, goes from 0-62mph in 8.2 seconds and has a top speed of 126mph. Which shows it is certainly not slow or sluggish.
There will be four models available: Laredo, Limited, Overland and Summit. The Overland and Summit will both have air suspension as standard, which adds comfort, improves the ride and handling and is well worth the money.
Jeep in the UK intend to expand their dealer network over the next few months going from 49 today to over 60 as sales are expected to continue to grow.
Prices and specification for the facelift Grand Cherokee have yet to be announced. 
Martin Ward, CAP Manufacturer Relationship Manager
Want to receive notifications of these blogs in your inbox? Email webcontact@cap.co.uk and sign up today.