First Driving Impressions – KIA Carens
17/04/2013
—
CAP Marketing
We landed at Nice airport, walked across to the short-stay car park to pick up our transport for the day - the all new KIA Carens - and on first sight we immediately thought what a good looking car it is.
Most People Carriers lack a certain amount of style and tend to be a bit 'boxy'. Designed more for practicality as opposed to be appealing to the eye. The new Carens is not at all boxy and does not carry the tag of being owned by someone with three kids and a dog.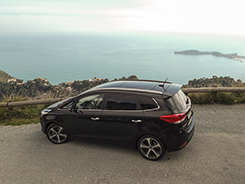 This is the fourth generation of Carens with the previous three hardly being known to the masses. Some may say it should have a new name to go with the new image and design, but because the other two are virtually anonymous the name does not carry any baggage.
The new Carens comes to the UK in May and will only be available with seven seats; five seat versions will be sold in Europe but the UK Product team decided in their wisdom to just have the one model, which makes complete sense.
I tried all seats and found there was plenty of room on the second row; the third row though was a bit cramped but will easily accommodate two children with a relative amount of comfort. Headroom for all passengers is good, despite the low, coupe-like roof line. The front seats, despite being in a high position with a good commanding view of the road are really comfortable. This is the sort of car where you could travel for hundreds of miles in perfect comfort. It is a pleasure to drive.
All the seats fold flat and are very easy to use taking just seconds to put up or down, even with one hand. The passenger seat also folds flat so a long load up to 2.1 metres can be carried, showing  just how practical and amazingly flexible the folding seats in this vehicle really are.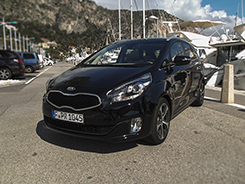 The KIA Carens has some other good storage solutions all over the car, but the one I liked was the rear tonneau cover that stores under the rear floor cover when it is not being used. This is a great idea and very useful for when you put the third row seats up, have a boot full of goods, shopping or luggage.
Engine choice is limited but adequate with a 1.7-litre diesel that produces either 114bhp or 134bhp and a 1.6-litre petrol that produces 133bhp. After driving all the engines the one I would go for is the lower powered diesel, as it has enough power for your everyday needs, low C02 emissions of 124g/km and a combined fuel consumption figure of 60.1mpg.
We drove the Carens around the Cote D'Azur then through Nice, Monaco, on the coast roads and up into the hills; it was a real pleasure to drive. At no point in time did we feel as though we were in a 'Boxy-People-Mover', it was more like driving a Coupe than a MPV. It was quiet, refined and everything about the car felt just right.
The quality throughout is up to a very high standard, and the materials used are excellent. KIA has come on in leaps and bounds in quality and now has a premium look and feel. Every new car they introduce seems to be better than the one before it.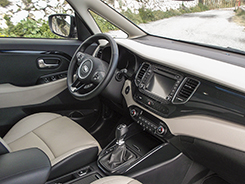 One option that is almost a must in the Carens is heated rear seats, this is an excellent luxury to have but getting the kids out of the car on a cold winter's morning when dropping them off at school may be difficult.
Prices and full specification for the UK have not been announced yet, but you can be sure it will be competitive.
Martin Ward, CAP Manufacturer Relationship Manager
Want to receive notifications of these blogs in your inbox? Email webcontect@cap.co.uk and sign up today.