First Driving Impressions – KIA Pro Ceed GT
09/07/2013
—
CAP Marketing
UK Press launch, Nice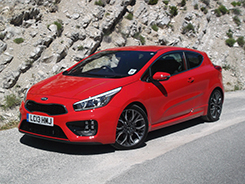 KIA UK transported around 20 new cars down to the South of France for the first drive in KIA's first attempt at the hot-hatch, and a car that is up against some very well established competitors. All the other manufacturers have history and heritage in the hot-hatch and coupe market: KIA has none, but everyone has to start somewhere.
The main competitors are: VW Golf GTi, VW Scirocco GTi, Vauxhall Astra GTC and Renault Megane Renault sport, although though many would say until it is established as a brand, the Pro Ceed GT is not really in the same market. Others may include Peugeot 208 GTi, Hyundai Veloster and Ford Fiesta ST among its rivals. It is a very diverse sector of the market, with nothing really in direct competition with something else. It is a sector where personal choice and needs are at the forefront of decisions.
The GT is powered by a 1.6-litre turbocharged petrol engine that produces 201hp, goes from 0-60mph in 7.4 seconds and has a top speed of 143mph. The official combined fuel consumption figure is 38.2mpg and the C02 emissions are a relatively high 171g/km.
We picked up the GT's at Nice airport and drove them a short distance on the motorway before heading off up into the hills above Cannes.
"We didn't really know what to expect from KIA, would it be good, bad or indifferent?"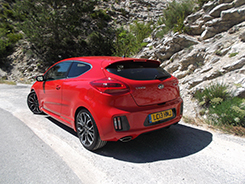 From the moment we got in the car, it was very apparent just how comfortable it was, the ride was not hard at all and the suspension felt more like a premium saloon than a hot-hatch, which was a nice surprise as we had a three-hour drive ahead.
The route took us through small French sleepy villages and on some very twisty mountain routes, where we hardly saw anyone. There were no roundabouts, traffic lights or other vehicles on the road, except for the odd tractor or the compulsory Fiat Panda 4x4.
The GT was very surprising, despite its soft-ish, comfortable suspension. It just clung to the road, dug itself in, and no matter what you did it didn't try and catch you out. It just planted itself to the surface and went round any corner, at any speed without any drama at all. Now I am not a quick driver, and am often known as steady- Eddy, or driving Miss Daisy, but I have to admit that I did push it a bit harder than I normally would, which I put down to either feeling very confident and extremely safe in it, or simply wanting to get to the coffee shop as soon as possible for a nice cup of tea – if that's possible in France!
The exterior of the Pro Ceed has some major design changes especially for the GT model.  Kia have done this by adding bold side sill mouldings, special dark grey 18-inch alloy wheels, red brake callipers, chrome strips around the windows and folding door mirrors with LED indicating lights. It also has some very attractive and unique 'ice-cube' LED daytime running lights, a GT badge on the grille and a lower broader bumper and air-dam, all of which give it a very sporty look and feel and made it into something special.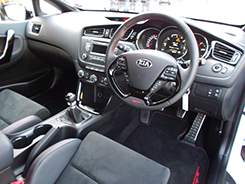 The interior also has a number of changes to make it unique including dials that show the normal functions, but adds engine torque and turbo-boost pressure dials, which I'm not sure why, but does look impressive. There is also a GT badge on the steering wheel, and plenty of red stitching to show off its sporty characteristics.
The Recaro seats really hold you in place whilst cornering, and are not just there for show as KIA could have taken the cheaper option of producing their own style of sports seats, but chose instead to go with the well-established, tried and tested Recaro seats, which I think was the right decision.
We did not really get chance to get a true MPG figure, as when you are stonking it around mountain passes and it's going like a greased whippet, holding it in 3rd or 4th gear for miles on end, the fuel consumption is going suffer.
The GT will divide opinion within the hot-hatch Appreciation Society, but whether it becomes a fully paid up member, or an Associate Member, it is a great first effort by KIA.
Two words to really sum up the GT – great fun!
Prices for the KIA Pro Ceed GT start from £19,995. The GT tech costs £22,495 with the 1st edition, which will be available in limited numbers, but does have a fantastic list of standard equipment costing £23,995. All the GT models come with a 7 year warranty as standard.
Martin Ward, CAP Manufacturer Relationship Manager
Want to receive notifications of these blogs in your inbox? Email webcontact@cap.co.uk and sign up today.