First Driving Impressions – Mercedes-Benz CLA
13/03/2013
—
CAP Marketing
It is a fact of life that lower medium saloons are not popular in the UK. For some reason we seem to prefer tailgates to boot lids on such cars and as a result virtually every mainstream manufacturer has dropped the saloon variant from their C sector range.
However, it's another fact of life that when it comes to premium badged cars we quite like 4 doors and a boot.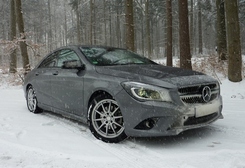 So, if the rumours are correct, our German friends have decided to combine the two and the coming few years will see all 3 premium German manufacturers bring saloon versions of their popular lower medium ranges to market. Only they probably won't be called saloons.
For instance, the first of the new breed of premium lower medium saloons to launch, the Mercedes-Benz CLA, is a coupe. Only it has 4 doors and a boot. Like a saloon.
The CLA is obviously based on the extremely well received A Class but is considerably longer thanks to the addition of a surprisingly spacious boot. In fact the CLA is actually a few cms longer than the current C Class saloon although because of the CLA's sleeker "coupe" styling you need to park the two cars next to each other to realise this. Unfortunately, that sleeker "coupe" styling also means you have to remember to watch your head when you get into the back seat although thankfully the door surround is well padded just in case you forget. Headroom in the rear is also limited if you're around 6 feet tall although there are no such problems in the front.
I actually preferred driving the CLA to an A Class. Even though we were in a pre-production vehicle on winter tyres and driving in the sort of weather that would bring most of Britain to a standstill the car seemed quieter and it has a very assured feel about it. As with the A Class everything is well thought out and within easy reach of the driver apart from the hand brake release which in true Mercedes-Benz style is tucked away under the dash.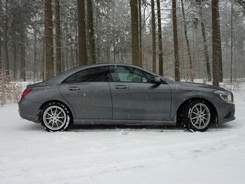 As well as being longer than the A Class, the CLA also has a higher specification. The car will only be available in the higher Sport and AMG Sports trim levels but comes with approximately £1,500 worth of additional equipment with dual-zone climate control instead of air conditioning and active park assist as standard. The Sport also has 18" alloys compared to the A Class's 17" and the AMG Sport is equipped with bi-xenon lights and privacy glass.  Both model lines will also feature a diamond grille which was first seen on Concept A and introduced on the top of the range A-Class, the A250 Engineered by AMG.  
Apart from the obvious addition of a boot, the CLA features additional styling cues to help further differentiate it from its 5 door stable mate. The swathe line down the side is less prominent to help further emphasise the "coupe" styling and the bonnet features a couple of highlights (or power domes as Mercedes-Benz call them).  
Unsurprisingly for a car that's larger and better equipped than its hatchback equivalent, it also costs more with prices ranging from £24,355 for the 122 PS 180 Sport to £31,555 for the 170 PS 220 CDi AMG Sport automatic. Both engines share the A Class's low CO2 ratings at 130 and 117 gms/km.
The CLA is a very likeable car and has a good chance of reversing our traditional aversion for lower medium saloons and Mercedes-Benz has probably done enough to differentiate the car from its close relative's underpinnings to prevent it becoming known as the A Class saloon. I still struggle with calling it a "coupe" though. 
Mark Norman