First Driving Impressions – Renault Clio
03/04/2013
—
CAP Marketing
The all new Clio is a pretty little French thing.
This is the second time we have driven the Clio, the first being late last year at Renault's test track near Paris where we were driving early pre-production cars. This time we are driving the right hand drive full production quality cars.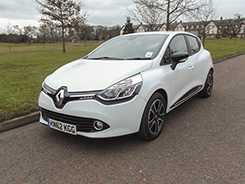 The all-new Clio is the fourth version with the first one being brought in 22 years ago to replace the popular Renault 5, and since then over 11.5 million have been sold in over 115 countries.
Renault have always been good at making small cars. This is Renault's real strength, and this new Clio is bound to be a success for the company.
The new design is completely different to the old model and was inspired by Renault's Senior Vice President of Design, Laurens Van Den Acker. Some new cars often have a similar look to their predecessor but this one definitely doesn't. We often say if you park a new model 200 metres away you can automatically tell what it is, but not this new Clio.
The new Clio will only be available as a five door hatchback, Renault have confirmed that there will be no three door or estate model. The new Clio's styling has the rear door handles hidden away to give it a more Coupe-like silhouette, and the forthcoming Captur is set to fill this gap where the Clio ST was. Renault says the omission of a three-door is simply down to costs and the growing demand worldwide of five door B-Sector Hatches. However Clio's main competitors - Ford Fiesta, Vauxhall Corsa, Toyota Yaris, Peugeot 208 and so on - all offer three door models which shows there must be demand somewhere.
The new Clio is a pretty car whichever angle you look at it. Close or far it has a very appealing design; we all know style sells and this car has plenty of it. The interior quality is up to a very high standard and shows that the poor quality often associated with some Renaults is a thing of the past. I recently went to a Renault Production facility near Madrid and found the production methods, cleanliness and attention to detail are second to none. It was a first class plant. This is something Renault doesn't seem to shout about, but it shows in the build quality and the high standard of materials used in this new Clio.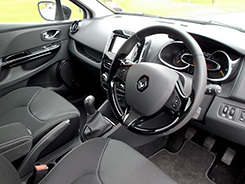 The engine line-up is good yet limited. Renault has confirmed though that there will be more engines on offer in the next year. For now though there are two petrol engines on offer: a 1.2 75ps and for the first time Renault are offering a 0.9 litre 3-cylinder engine that produces 90hp, called the TCe 90. There is one diesel engine available which is their 1.5 dCi 90 that has C02 emissions as low as 83g/km. In Chester and late last year in Paris we got to drive all the engines on offer, and the TCe 3-cylinder would probably be the engine I would choose, it is much better than its description would have you believe.
The Mk4 Clio is longer, wider and lower than the previous car but weighs on average around 100kg less. The interior space is good for the driver and front passengers, and its rear legroom and luggage space is as good as any other vehicle in this sector.
Renault has got the new Clio about right. The only thing that may put people off is that there will be no three-door model. Prices start from £10,595 and go up to £16,095.
Martin Ward
Want to receive notifications of these blogs in your inbox? Email webcontact@cap.co.uk and sign up today.