First Driving Impressions – Suzuki SX4 S-CROSS
26/06/2013
—
CAP Marketing
This all-new crossover from Suzuki will be available from mid September with a choice of two engines: a 1.6-litre petrol and a 1.6-litre diesel, with an automatic option being available on the petrol engine. We drove both engines whilst in Italy and found that the diesel version is the one to have. It produces 120ps, goes from 0-62mph in 12 seconds, has remarkably low C02 figures of 110g/km to 114g/km, and a combined fuel consumption figure is as high as 67.2mpg for the 2WD version.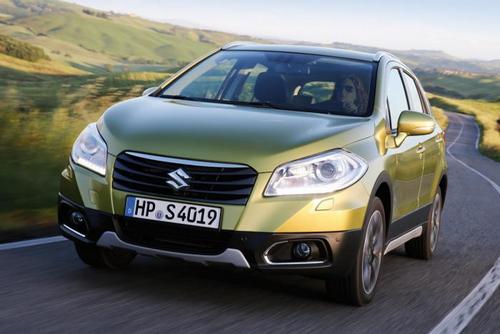 Suzuki are offering an option called All-Grip for around £1,000. All-Grip is a 4WD system that offers not one standard ride setting but four. In normal driving conditions the automatic setting is selected, but for a sportier feel with improved ride and handling then Sport-Mode is used. The other two settings are Snow and Lock. Lock mode enables the driver to lock all four wheels in 4WD, to ensure the best grip in the worst conditions. We did not get chance to try this system in Italy, but we were assured by the engineers that you can use this vehicle in the most difficult and slippery terrain.
The S-CROSS is a true C-Sector crossover which means it has many tried and tested competitors including: Nissan Qashqai, Peugeot 3008, Mitsubishi ASX, KIA Soul, Hyundai ix35, Skoda Yeti to name a few. The S-CROSS has some good company in a growing sector which is getting more popular, as people move away from traditional C-Sector hatches into more practical cars that have larger interiors.
The SX4 S-CROSS is built at Suzuki's factory in Magyar Hungary, and although the cars we drove were pre-production models, they did appear to be up to a high standard, as the materials used and the fit and finish where good quality. There will be four models available: SZ3, SZ4 SZ5 and SZT. The SZT model will have a high level of specification with some nice features as standard. Suzuki say that the SZT is mainly aimed at fleet drivers, but have confirmed that it will also be available for retail customers.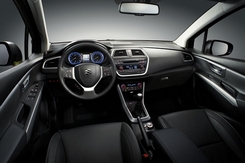 The S-CROSS is 4,300mm long, and although it is a similar size to a regular five-door hatch it does offer more interior space. There is plenty of room in the rear for three adults, as your feet can comfortably fit under the front seats. The boot has a moveable floor, so it can be raised to be level with the bumper for easy loading, or lowered to make more luggage room. Suzuki have certainly thought long and hard about what customers need in a car like this, and they seem to have come up with some clever solutions as it has some nice features and touches that all work well and offer a good overall package
The design team have managed to create a good looking crossover that will suit many tastes, and still retains the 'Suzuki-look'. Unfortunately though this styling will not suit everybody, and some people will play it safe and buy the more well-known brands, but Suzuki have to start somewhere in this all-important sector, and the SX4 S-Cross is a huge move in the right direction for them.
"Suzuki are now offering a well-equipped, stylish, good quality car, 
with low C02 and 
reasonable fuel consumption"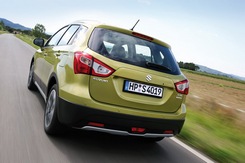 As good as the car is, Suzuki need to establish themselves in the fleet market, and getting the message over to customers will not be easy for them. They can do as much advertising as they want, but it will be word of mouth that will get across the advantages of buying an SX4 S-CROSS. Getting people to understand that this is not just a facelift version of the current SX4 will also be difficult, but Suzuki do have the right car at the right time, and they should be able to meet their target sales of around 5,000 per year, as it is a good alternative to other crossovers available in the market.
In my opinion Suzuki really should have dropped the SX4 name, and just named it S-CROSS as using SX4 is really doing this all-new car an injustice. Suzuki in Europe were 'asked' to keep with the name by the Japanese head office, as they thought it was a well-known and loved brand, but in reality it actually carries  some baggage and should not be included in the badging policy. In its favour though the S-CROSS naming has been added and does go some way in establishing it as a new car, and distinguishes it from the old SX4 model.
Suzuki are now offering a well-equipped, stylish, good quality car, with low C02 and reasonable fuel consumption. The SZT is the model to go for, as it offers the best of both worlds, especially if bought with the 1.6-litre diesel engine.
Prices and full specification for the SX4 S-CROSS will not be announced until early July, but we have been told that it will be competitively priced. First customer deliveries are expected in early October.
Martin Ward, CAP Manufacturer Relationship Manager
Want to receive notifications of these blogs in your inbox? Email webcontact@cap.co.uk and sign up today.