First Driving Impressions – Volkswagen Golf Estate and Golf Hatch BlueMotion
17/07/2013
—
CAP Marketing
European Press launch, Holland
Volkswagen Golf Estate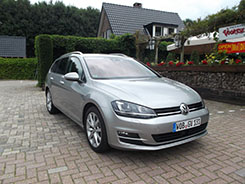 Just a few weeks ago, Volkswagen had built their 30 millionth Golf, a huge milestone for the company, and a huge amount of cars produced since 1974, when the humble and small Mk1 first took to the streets.
I think it is fair to say that any previous Estate has been regarded as fairly dull, and designed more for people who wanted to carry things, as opposed to those who wanted a stylish car. After all estates are always thought of as load-lugging, utilitarian, practical vehicles and not fashion statements.
But for the first time, Volkswagen have put a bit of flair into the design, making it look appealing with some very nice lines, especially the side swathe lines, that takes it from a 'slab-sided' estate into quite a stylish vehicle. The new Estate based on the Golf MK7 is still a very practical and flexible vehicle, as an estate should be.
"The new styling has not taken anything away from its original purpose"
With the rear seats up the carrying capacity is 605-litres, which is up 100-litres from the previous model, and goes up to 1,620-litres with the seats folded down. The length of the Estate has increased by 28mm, and is 18mm wider and 23mm lower, which gives it a sportier look and more balanced proportions. The rear seats fold down flat quickly and easily, and when they are down it does look to have an awful lot of space.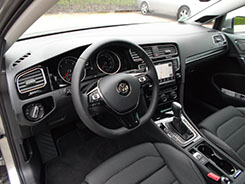 At launch there will be three diesel engines: a 1.6-litre TDI 90ps which has a 5-speed manual gearbox, a 1.6-litre TDI 105ps with a 5-speed manual or a 7-speed DSG automatic gearbox and a 2.0-litre TDI 150ps with either a 6-speed manual or a 6-speed DSG gearbox. There is also a choice of three petrol engines as well: a 1.2 TSI 85ps and 105ps, a 1.4-litre TSI 122ps and a 1.4-litre TSI ACT 140ps with cylinder deactivation. All the petrol engines will have either a 6-speed manual, or a 7-speed DSG gearbox.
The new estate is available to order now, with first UK deliveries due in October. Prices are £765 more than the equivalent Golf Hatchback, and start from £17,915 OTR. It will be available in three trims: S, SE and GT.   
Golf BlueMotion
The New Golf BlueMotion is the most fuel-efficient production Golf to date, and is available to order now, with first deliveries due in August.
According to the official figures, the BlueMotion offers 88.3mpg (combined), so with its 50-litre fuel tank it has a theoretical range of 970 miles, meaning some people would only need to fill up ten-times per year. But as we all know, achieving these figures is difficult at best in real life, and in normal day to day driving it is generally a long way off the quoted official mpg numbers.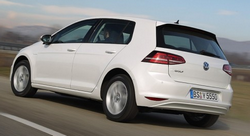 In Holland we did not get chance to reset the trip computer, and convert it into mpg from litres. So a real life test was not possible, and even if it had been, there were very few hills if any to go up and down anyway, which meant the reading from the on-board computer would have been misleading.
I have no doubt though that even driving around the UK, up and down hills and in traffic, the BlueMotion would still achieve some pretty impressive figures, and would be a cheap car to run. It is difficult to compare the BlueMotion 1.6 TDI with a non-BlueMotion, but I estimate it is around £1,100 more than models with similar specification, so anyone buying one of these would have to do a lot of mileage to be able to reap the benefits.
Out on the roads on the outskirts of Amsterdam the BlueMotion was certainly not lacking any power on take-off from traffic lights, or any of the roundabouts we found. But on the motorway in 6th gear, it was a different story: put your foot down to overtake, or go a bit quicker, and there was just about no response at all. You have to drop down a gear or two to get a bit of motion to make you feel safe and get the acceleration you need.
By dropping down the gears, this inevitably uses more fuel, and sort of defeats the object of the car. I'm sure many of the drivers who buy a BlueMotion will be more than happy, sitting in the inside or middle lane of the motorway cruising at 55mph, watching the trip-computer to get as many miles-per-gallon as possible, so they can tell their family and friends just how frugal it is…
BlueMotion will be available on the estate model for the first time from late 2013.
Prices for the Golf BlueMotion start from £20,355 OTR.
Martin Ward, CAP Manufacturer Relationship Manager
Want to receive notifications of these blogs in your inbox? Email webcontact@cap.co.uk and sign up today!