First Driving Impressions – VW Beetle Cabriolet
26/03/2013
—
CAP Marketing
In late February you really have to go south to stand any chance of getting weather decent enough to drive a new convertible with the roof down. VW very wisely chose the South of France for the International launch of the latest version of the Beetle Cabriolet.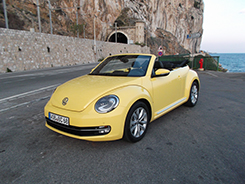 The original Beetle Convertible was launched in 1949 and sold over 330,000 worldwide until production ceased in 1980. There was then a gap of over 22 years until the next Beetle Cabriolet was launched in 2002.
The new Beetle Cabriolet is 152mm longer, 84mm wider and 29mm lower and looks much more in proportion than the old model. The design has not moved away from traditional Beetle styling but it just looks so much more improved. The new modern longer and lower design will certainly help sales, as many in the past have not bought the previous model simply because of how it looked. The all-new car though puts all the previous models wrongs, right.
At launch, UK drivers will have a choice of three petrol, and two diesel engines. The three TSI petrol engines will be a 1.2 that produces 105ps, a 1.4 160ps and a 2.0 200ps. As for the diesels, there will be a 1.6 TDI Blue Motion 105ps (with C02 emissions of 118g/km) and a 2.0 TDI 160ps with either a 6-speed manual or DSG automatic gearbox.
The new car will be available in a choice of models and specification in the UK including: The Beetle, Design, Sport and some Limited Editions named: 50's, 60's and 70's. It seems odd to call one of the models the VW Beetle Beetle, but this theme continues from the Hatch line-up.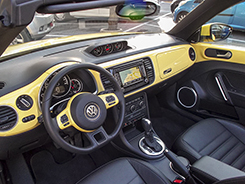 The roof is available in two colours: black and nutria beige and has three layers to help the acoustics, lower wind and road noise and keep the occupants dry in rain or snow. It goes up or down in just 9.5 seconds and can be lowered or put up at speeds of up to 31mph. When the roof is down it does not compromise the boot space which is actually 24-litres larger than the current car at 225-litres. The boot lid has a fairly small aperture so getting in large items would be difficult, although we did manage to get our overnight suitcases in without any difficulty.
The 50's model comes with black paint, black 17-inch alloy wheels, chrome door handles, a black roof and leather upholstery in either black and red or beige. The 60's model is available with Denim Blue or Candy White bodywork, a black roof and blue and black or red and black leather trim. The 70's car has beige leather upholstery, chrome door mirrors and Java Brown Metallic paint.
We drove a selection of engines at the Press launch and our choice would be either the 1.2 petrol or 1.6 TDI. The 1.2 does sound underpowered but in reality it had more than enough power, even going up some of the steep inclines above Nice heading out towards the mountains. The 1.6 diesel is a really sweet engine and suits this car perfectly, it is quiet and refined and even when the roof is down you really can't hear it.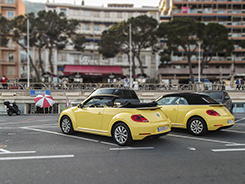 We drove around Monaco which notorious for having very expensive, exotic, luxurious, sporty cars, and a place where even expensive Premium cars are frowned upon by some residents. Taking this into account it was pleasing to see that we were turning heads and fingers were being pointed at our £20,000 VW, not in a bad way but in a good way as we could see that people there were pleasantly surprised by the Beetle.
I tried putting the roof up and down at 50kph (31mph) and true to what VW told us it did actually work without any effort. The new Cabriolet is comfortable, has plenty of room for the two rear passengers and is well put together. There were no squeaks or rattles and the quality throughout was very good. The car felt safe and solid in all conditions and rode over all road surfaces without any effort, even on some rough roads that were potholed it felt more like a premium saloon than a four-seater soft top. The only problem I had with the new Beetle was when the roof and windows are down the wind catches the seat belts and makes them constantly move back and forth, hitting your shoulder which can get rather annoying after a while.
Volkswagen have got this Cabriolet just about right, it looks good, drives well and is sensibly priced. The roof works quickly and perfectly and there are a good choice of engines.
Prices start from £18,150 and go up to £28,095.
Want to receive notifications of these blogs in your inbox? Email webcontact@cap.co.uk and sign up today.