First Driving Impressions – Yúrén Wind
31/03/2013
—
CAP Marketing
Yúrén, the latest entrant into the motor industry, apparently chose Scunthorpe for their European Press launch because they wanted a location that would embody the 'fresh air' philosophy which underpins the car. So, while the rest of the country struggled through blizzards and snowdrifts, we were driving an air-powered car to Grimsby, where we were treated to fish & chips, before topping up with fresh 'fuel' and driving back.
Note to readers - this article was an April 1 spoof.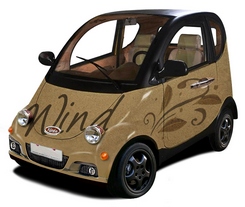 The Yúrén Wind is an interesting concept, appearing at dealers in the UK as early as Summer this year and already 15 dealers have taken on the franchise. The Wind (not to be confused with the Renault Wind) is built on a light-weight aluminium chassis and the body is made from ultra-tough resin impregnated recycled paper for most of the body, keeping the Wind's weight as low as 400kg. As we inspected the small car it was fairly obvious that it not only looks unusual, but feels unusual too, in terms of the body's texture. While it isn't immediately obvious from a distance that the body is cardboard, up close it reminded me of those papier mache balloons you make in your early years at school. Yúrén do say, though, that repairs to the bodywork will be cheap and simple. All panels will be available on eBay, with free overnight shipping. I had a long conversation with two of the designers from Shanghai, who were at the launch. There was a bit of a language barrier but I'm sure they said they are now working on a flying version of the car. I doubt if that will make it onto any user chooser lists.
The other striking fact about this new car is that it runs on compressed air. We were given a long press conference on how it works. Clocking in at just over two-hours, led by the Chinese technical team, the batteries in our headphones were all dead long before the end so we couldn't hear the translator. From the PowerPoint technical slides we could see that the air is pumped into a tank, under high pressure. I got lost after that point.
We took the Wind out onto the roads around Scunthorpe and found it to be surprisingly quick. As you might expect, it was also very quiet with just a hiss coming from the rear, as the air was released and the wheels turned. It got up to around 35mph and – thinking about what the body was made of –  this was plenty fast enough for me.
Yúrén seem to have thought of everything, in developing the Wind. If you run out of air, then there is an emergency 'get-you-home' device in the form of a large rubber band, which is stowed in the boot. You simply wind up the rubber band, using any large piece of wood to hand, which takes around 10 minutes to get maximum range. You get in the car, press a lever and off you go. The beauty of this emergency system is you never run out of power (unless there are no pieces of wood around) and therefore no fear of the kind of range anxiety you get with, say, electric vehicles.
Available in just one specification (2 seats, 2 pedals and a steering wheel) it may be a little basic for some tastes but you can't argue with a price of £3,995. I have to say, though, that the Yúrén Sales Director may be a little optimistic in his projections of 250,000 UK sales by 2015.
Martin Ward – Manufacturer Relationships Manager
<!--[if !supportLineBreakNewLine]-->
<!--[endif]-->