First UK Driving Impressions – Audi A3, UK Press Event, Ascot
We first drove the all-new A3 a few months ago on the sunny island of Majorca and we thought it was a great car to drive – in fact we thought it was a big improvement all-round. It was now time to drive the first right hand drive cars in the UK.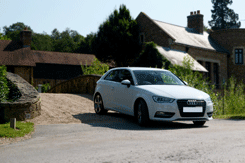 The A3's exterior design is clearly very much still recognisable as an A3, and to the untrained eye it is very, very similar. If you couldn't see the two side-by-side, then you really wouldn't be able to tell the difference, but if you compare photographs or see the actual cars together and it's very obvious what the designers have done to change it. It has changed in a number of ways: it has shorter overhangs, a new design hexagonal shaped front grille, different shaped headlights, a deeper side swage line, and the fuel filler cap has gone from being square shaped to round. At the rear there is a new spoiler as standard and larger lights which are now integrated into the boot lid. The rear lights are now long and narrow rather than being almost square as they were on the old A3. Lots of design changes and every one of them is an improvement.
The new A3 is a very competent three door hatch and this new one will be as much in demand as the previous models.
However, it's not just the skin that has changed – many things underneath have also changed dramatically. Lightweight engineering and new engines set the two apart, with the new car being up to 80kg lighter and having a stiffer chassis, which in turn has altered its driving characteristics for the better. Its wheelbase has increased by 23mm – although overall length remains the same – and there are significant efficiency improvements including its fuel economy, which has improved by an average of 12%.
The interior has also seen many changes, with most of them being for the better. Technology from larger cars has been moved down to the A3 – features including Advanced MMI System with MMI Touch and an ultra-thin, electrically folding display screen. The seats feel more supportive and comfortable, the four air vents are round and have an adjustable diffuser, and there's some very nice chrome surrounding them which adds to the quality. All A3s now have an electromechanical handbrake, which may not appeal to the customers who will still prefer a standard manual one.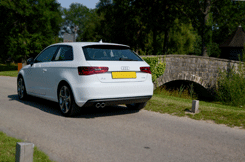 We drove two cars on the roads around Ascot: a 1.8 litre TFSI 180ps petrol with 7 speed S Tronic transmission and a 2.0 litre TDI 150ps diesel manual. The first of the two proved to be very quiet, quick and reasonably economical, but the favourite of the day was the 2.0 litre TDI. It goes from 0-62mph in 8.6 seconds, has a top speed of 134mph and a CO2 emissions output of 106g/km. It has an official combined fuel consumption figure of a remarkable 68.9 MPG, but during the time we drove the car – which involved some very heavy traffic, plenty of stopping at traffic lights and in other words, not the best conditions for fuel economy testing – we still achieved a very reasonably 46.1 MPG. We thought this was very good considering the type of driving we did.
The new A3 is the sort of car that you could happily live with for many years; it offers quality in a sensibly sized car, the interior space is adequate and you know it will be reliable and hold its value fairly well. On the road it's comfortable and with the seats now being positioned slightly lower, there's more headroom than its predecessor. It rides the bumps well, handles extremely confidently and the drive is pleasurable experience. The new A3 is a very competent three door hatch and this new one will be as much in demand as the previous models.
But, as with all good things, it does come at a price. The cheapest new A3 is priced from £19,205, with the 2.0 litre TDI engine costing from £22,730. However, that car did have a few options on board which pushed the price up to just under £30,000. The new A3 model line-up remains nice and simple with SE, Sport and S line. A 1.6 litre TDI diesel engine is due in November, and a 1.4 litre TFSI petrol with Cylinder on Demand is due in Spring 2013. It's a very clever engine with superb technology, and one that's definitely worth waiting for.