Second Driving Impressions – Volkswagen Golf MK 7
06/03/2013
—
CAP Marketing
I previously drove the all-new Golf last October in a very warm and sunny Sardinia. This time we drove the right-hand drive UK model on British roads, on a cold and wet day.
The Golf Mark 7 is now available from UK dealers, it is on-sale and ready to drive away, and those who have had one on order for some months need not wait any longer. The all-new Golf is the Seventh Generation with the Mark 1 being introduced 38 years ago, making the average length of time for each model just over six-years. The current version the MK 6 only managed to remain in production for just over 3 years, meaning the MK 7 has arrived earlier than any other new Golf, much earlier. Since its launch in 1974 over 29 million Golfs have been sold worldwide, with 1.6 million of them finding homes in the UK.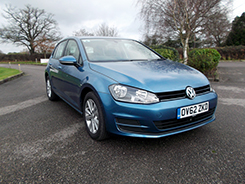 Volkswagen have stayed close to their tradition of introducing the Golf with evolutionary styling as opposed to revolutionary, and it's clear to recognise immediately that this new model is a Golf, there is no doubt whatsoever. The Golf MK 7 is longer, wider and lower than the MK 6. With a longer wheelbase and the front wheels moved further forward by 43mm, this has given the interior more space for occupants. The new car is 56mm longer, 13mm wider and 28mm lower. The boot space has also been increased by 30-litre to 380-litre with the rear seats up. Despite the increase in size the car now around 100kg lighter, this loss of weight has contributed to the Golf MK 7 being up to 23% more fuel efficient.
Under the surface, use of the new MQB (Modular Querbaukasten) platform, or Modular Transfer Matrix brings fundamental changes to the platform, and this system will be used more and more on VW Group Products, and will become the norm in years to come as their new cars are designed and introduced.
The petrol engines available are: 1.2-litre TSI 85ps with 113g/km, 1.2-litre TSI 105ps with 114g/km, 1.4 TSI 122ps with 120g/km and the 1.4-litre 140ps with Active Cylinder Technology (ACT). The ACT allows the golf to deactivate two of the engine cylinders under certain loads which can reduce C02 emissions, in this case to 112g/km. The diesel engines available are a 1.6-litre 105ps with 99g/km and a 2.0-litre 150ps with 106g/km. All of the engines have Start/Stop and battery re-generation as standard. A BlueMotion 1.6 diesel is planned for the future and will feature an all-new engine that produces 110ps, C02 emissions of just 85g/km and a combined fuel consumption figure of 88.3mpg.
Three specification levels will be offered at launch in the UK: S, SE and GT, with both three and five door body-styles available. A GTi version will be available from mid-year (which I will be testing at the end of April) which will be powered by a 2.0-litre 220ps petrol engine.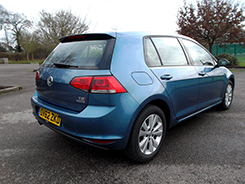 As you sit in the new model it is impressive just how much more room has been created by making it just that little bit longer, and even though the roof has been lowered slightly on this new model the headroom has not been compromised in the front or the rear, which makes the new golf a much more relaxed and comfortable place to sit.
Out on the roads near Horsham and down to Brighton the car drove perfectly, it is so quiet with no rattles, squeaks, wind noise, road noise or engine sound. The handling is brilliant and it sat comfortably at 70mph on the motorways and dual carriageways, showing it is very stable at speed. As I was driving down some of the B roads I found that the MK 7 is also excellent at dealing with bumps and potholes, with nothing of any significance feeding back in to the cabin.
The 1.4 TSI model I was testing has the previously mentioned ACT, where the engine shuts off two cylinders if you do not need them. The clever part is that you cannot tell when it is running on 2 or 4 cylinders, there is a small indicator on the dashboard that notifies you but you don't know whether to believe it or not as you really cannot tell the difference.
Another clever function is the fact that you can store the rear parcel shelf under the variable load floor. So if you have a tall or large item to carry, you simply take off the parcel shelf and put it under the floor out of the way. The variable floor can either be at bumper level for easy loading, or can be lowered to give extra space.
The centre console and dash are now oriented towards the driver as opposed to being flat on towards both driver and passenger. This new design looks more stylish and helps the driver with the controls and enables them to see the instruments more clearly, especially the sat-nav screen.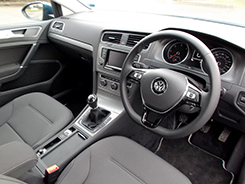 The new Golf Mk 7 is most definitely a Golf in its design, which is not a bad thing. It has more room, clever features, a good choice of economical engines and a good colour palette. This Golf like every other Golf before it will have a successor, and no doubt like all the other models in history the Mk 8 will be an improvement on the Mk 7. For now though any customer buying the latest Golf is assured of high quality, reliability and low depreciation, which is exactly what you expect from a Golf.
Volkswagen UK expect to sell around 60,000 units per year to both private and fleet buyers, all these cars will then hit the used cars market and will easily find a second, third and fourth home down the line, just as they always have.
It doesn't really matter where you drive a Mk7, on a sunny island, or on a wet day in the south of England the Golf is very capable, safe and solid. The 5-door models will cost £655 more than the equivalent 3-door models. Prices for the new Golf start from £16,330 and go up to £24,625.
Martin Ward