Test Car – Bentley Mulsanne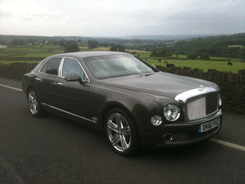 The Mulsanne is a huge thing, so when you park it in a car park, there's no danger of you losing it as either the front or back end sticks out further than any other car. At home I had to back it right up against my garage door to allow neighbours to pass by in their cars. The Mulsanne obviously wasn't designed to be hidden away or parked outside the average semi in a small village; it would normally live in a stately manor behind security gates or within one of the Royal compounds. It isn't for the average person and you'd have to be very special and especially rich to own one. Owning one is one thing but driving it is another, and I highly doubt that the people who cough up for one regularly drive it. The place to sit in a Mulsanne is in its very spacious rear.
The Mulsanne's exterior design is typically Bentley and you can tell it's a British masterpiece from 200 metres away, however, it does have a modern look and doesn't appear cumbersome on the eye in any way. Its styling is firmly associated with elegance and sophistication, so it just automatically attracts attention wherever it goes. Whether these people looking at it are admiring its beautiful shape and sheer presence, or whether they're looking to see who's inside remains a mystery, but I suspect it's a bit of both.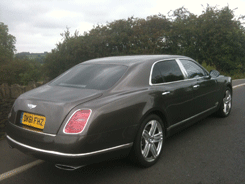 The Mulsanne has a 6.8 litre V8 twin turbo petrol engine that produces 505bhp. Its official MPG combined figure is a very honest 16.8 MPG, but we achieved around 13 MPG, which isn't a brilliant result, but it's no surprise as it's a massive car, with a gross vehicle weight of 3,090kg and an overall length of 5,575mm.
The Mulsanne we had was finished in Brodgar metallic paint, it had Shortbread leather interior and had optional 21" polished five spoke alloy wheels. All of these made the car look like a million dollars – in fact that's almost what it would cost to own three Mulsannes!
The designers and engineers at Bentley Motors in Crewe have somehow managed to develop a car that is large and heavily laden with luxury, yet offers a very pleasurable and easy drive. Despite its length and width, it feels so agile and more like a sports saloon. I thought the handling would have been a bit clumsy and soft, but it isn't at all; it feels so solid and although it's not the sort of car you can throw around corners, it certainly keeps up with smaller and sportier cars. It's a remarkable piece of engineering, but don't forget that Bentley has been making sporty, luxurious cars for many years, so they should know how to do it by now.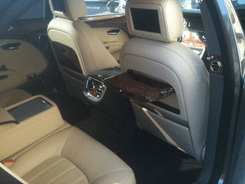 The interior is so important on this type of car, and the Mulsanne's interior really says it all about Bentley; it's simply wonderful and everything about it screams quality. The craftsmen and women in Crewe work with the best leathers and veneers that money can buy to create the finest interiors. You don't have to be an expert in fine materials to recognise just how good they are, but it's the craftsmanship that brings these materials alive; the team there really do transform them into a masterpiece.
As you'd expect, rear legroom is more than enough and the levels of comfort are out of this world. There are fold down tray tables that can support your cucumber sandwiches and champagne, or your laptop if you intend to do some work. Whatever you might use these for, one thing is certain: you'll use them whilst sat in complete luxury. If you wish to be out of sight of the public, then the rear window electric blinds will allow you some privacy.
Despite its length and width, it feels so agile and more like a sports saloon.
The Mulsanne is the perfect vehicle to be taken to the airport in if you wish to fly in your private jet. It's perfect for being driven in, to sit in the rear and be pampered by a car – if that is possible – and yes, I believe it is possible. It's perfect to do your work in and as we found out, quite surprisingly it's the perfect car to drive. Our preconceived idea was that the Bentley Mulsanne was for passengers only and the driver's pleasure was secondary, but this car really showed us otherwise.
The cost of a Mulsanne is around £225,000 and it'll be well worth every penny if you have this sort of money. This really is a car fit for a Queen; it is just splendid.