Test Car – Ford B-Max 1.6 litre TDCI Titanium
The all-new B-M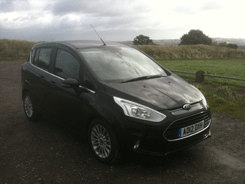 ax is the multi-purpose version of the ever popular Fiesta, and as its name suggests, it sits in the B sector. It's 4,077mm in length, which makes it around five inches longer than the current shape Fiesta.
The car we had for a week was powered by an impressive 1.6 litre TDCI diesel engine that produces only 95ps, but while driving it, we were surprised to find that it felt a lot more powerful than a sub-100ps engine should.  We drove the car on all sorts of roads in town and out in the country, and covered quite a bit on motorways as well, where it managed to maintain 70mph with ease. At traffic lights it set off just about as quick as everything else around it, so despite its low output it had more than enough power.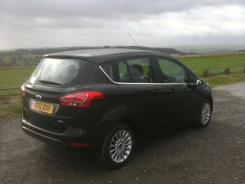 We achieved an average of around 44 MPG according to the on-board computer which is pretty good, but a long way off its official combined figure of 70.6 MPG. I really don't know how they managed to achieve this. It has a CO2 emissions figure of 104g/km, which is reasonably low for the style of car.
From the driving position alone, you can most definitely tell that this car is a Ford, with all the switches and levers being very Ford-like in terms of their look and feel. They tend to be consistent in any Ford car, so you could be sat in any model in the range. The quality of everything in the car is good, with fit and finish being of a good standard. The whole of the interior looks as though it has been well put together and the materials used throughout are superb. The seating position is higher than you'd expect to find in a regular B sector hatch, so visibility is improved and getting in and out is also much easier.
Out on the road the B-Max doesn't drive like a typical mini-MPV; it feels solid and has good handling characteristics.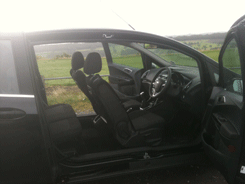 One unique feature that distinguishes the B-Max from its competitors is a lack of B pillars; the front and sliding rear doors connect directly to each other, rather than to the traditional pillar. This is a feature that some may like the look of and some may not. Should a side collision occur, the doors and the roof have been reinforced, so the B-Max is just as strong and robust as any other car. For someone a little older, getting in and out of the rear can prove to be a bit difficult with nothing to hold on to except the front seat to steady them; however, the lack of pillars does make it easier for young mums when lifting children in and out of rear child seats. The real problem with this door system is in fact the door system itself. The rear doors slide quietly and smoothly – so no worries there – but the sliding mechanism is square shaped, made of a metal/plastic material and has a couple of objects protruding from it. When you get out of the rear there is a tendency by most people to put the back of their leg against it. While this obstruction is unlikely to get dirty over time – as it sits within the car, just above the door sill – it could still put a mark on the back of your leg. The design of the rear door slide mechanism is clever, but it does need some sort of cover to avoid damage. Any of the doors can still be opened independently, so you can still slide a back door open and leave a front one shut, and vice versa.
Out on the road the B-Max doesn't drive like a typical mini-MPV; it feels solid and has good handling characteristics. It is a pleasure to drive and during the time we had the car we really enjoyed using it.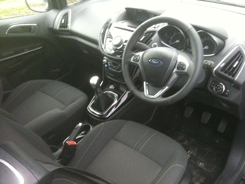 The luggage area has two floor heights, which is a very useful feature; when you move the load area floor directly level with the bumper it makes it so much easier to get luggage or shopping in and out. When the floor cover is removed, around another five inches of depth is made available.
The B-Max is a cleverly designed, safe car and everyone should be reassured that Ford has added that extra protection in the doors to make up for the absence of B pillars. Has Ford come up with the perfect solution to a problem that never existed, or are they really offering buyers a unique proposition that will change the face of cars in this sector? It may be a unique feature now, but will it eventually become the norm? Others may follow suit with this design in time, or they may not.
The B-Max is a great and enjoyable car to drive. It looks good anyway, so did Ford need to go to such lengths and expense to create such a unique feature?  In truth, they probably did, because they were able to and it's good to see new technology being developed.
The cost of the test car is £18,895.