Test Car – Ford Mondeo Estate 2.0 litre TDCi Titanium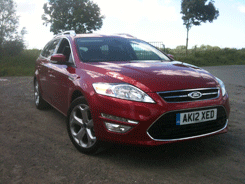 I drove the Mondeo Estate over 1,000 miles from my home in Huddersfield, to Ford's test track in Lommel, Belgium and back again. The Mondeo is the backbone of the British fleet industry, so it has to be a capable and reliable vehicle and being an estate car, it also has to be a load-lugger that's economical, safe and comfortable. During the time I had the car, it certainly lived up to these expectations.
The only problem with the Titanium trim is the fact that it doesn't have satellite navigation as standard, which is a must for a journey where you're travelling through three countries, so I dug the old Tom-Tom out and that proved invaluable. The trim name simply conjures up the expectation that it is the top model so you expect sat nav to be fitted, but it isn't which is a bit disappointing. However, we managed to get there and back without getting lost once.
The Mondeo is the backbone of the British fleet industry, so it has to be a capable and reliable vehicle
On the motorway the Mondeo is a great cruiser; it's quiet, has more than enough power and you feel you could sit in it forever without getting agitated. Its official combined fuel consumption figure is 57.7 MPG, but during the time we had the car we achieved an average of 45.5 MPG according to the on-board computer. This was mainly at covered at motorway speeds, including some at 130kph (82mph) in France, so it was a good result for such a large car.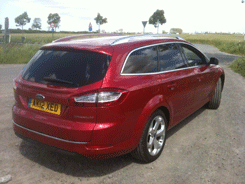 We didn't encounter any problems with the car other than the front 12V cigar lighter/socket, which didn't work, so we had to plug the Tom-Tom into the rear socket, but aside from this it proved to be completely reliable. The car just sailed safely through the wet weather and across the UK, France and Belgium. The Mondeo's 2.0 litre TDCi unit produces 140ps, goes from 0-62mph in 9.8 seconds and has a top speed of 127mph. It has a CO2 emissions figure of 129g/km.
The Mondeo is still a great car and it offers a driver everything they could possibly want in a car: comfort, economy, safety, reliability and plenty of space. The Mondeo 2.0 litre TDCi Titanium Estate is priced at £23,945.