Test Car – Skoda Citigo SE 1.0 litre MPI
We last drove the Citigo around the streets, hills and motorways of Lisbon in the sun, so we thought it would be interesting to see if this little car performed as well around Huddersfield in the pouring rain.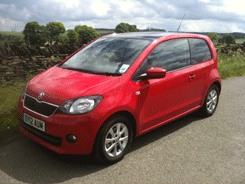 We tested the 1.0 litre MPI petrol engine that produces 60ps, goes from 0-62mph in 14.4 seconds and has a top speed of 100mph. The figures don't really do the car justice, as on paper it looks slow and under-powered, but it is enough for the sort of work it's meant to do. It's obviously not a sports car and it doesn't claim to be quick: it's a small city car so it does what you would expect. Setting off from standstill, the car's power isn't a problem; it gets away just like any other small car, which isn't quickly, but safely. In terms of safety, this small four seat car feels very stable on the road and solidly built.
The Citigo is one of a trio built in the same factory; the other two being the VW Up! and Seat Mii. All three have most things in common, but price, spec and some of the styling does differ. This small hatchback will certainly bring in more customers to a brand that many have still never considered before. It's yet another turning point for Skoda.
For £8,890 on the road you do get a lot of car for your money.
For £8,890 on the road you do get a lot of car for your money. Standard specification includes electric front windows, body coloured door mirrors and handles, manual air conditioning, split folding rear seat and ESP. The one option to have would be the PID (Portable Infotainment Device) which is a satellite navigation system which also includes Bluetooth and other features which provide valuable information. This is well worth the price at around £300.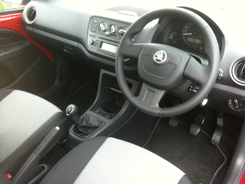 In Lisbon we found the roads to be in a poor state of repair in some places, and back in Huddersfield the roads are not that much better. It can be said that some of the potholes around home are deeper than those in Portugal, so, would the Skoda be able to cope with the lumps and bumps of Yorkshire? The answer is most definitely, yes. We don't know what the designers and engineers at Volkswagen Group have done to make the suspension so good – and to be honest, it's not really that important how they've achieved it – but what is important is that they have done it. The car is so smooth and more akin to a much larger premium car with a wheel base that's much longer. Over any surface the Citigo performs so well, with no bangs, rattles, squeaks or knocks. It is almost perfect in terms of ride.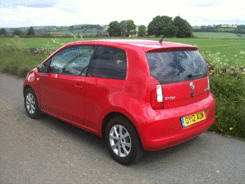 Its official combined fuel consumption figure is 68.9 MPG, but the car we had didn't have an on-board computer, so we had to estimate and between us thought that it was achieving no less than 55 MPG.
The Citigo 1.0 litre MPI 60ps certainly isn't the quickest car in the world, but it does exactly what it's supposed to – carry four people in relative comfort. In conclusion, the Skoda is economical, quiet, well-built and rides those bumps so well, but above all else, it is such good value for money.