Test Car - Audi A6 Allroad 3.0 litre TDI V6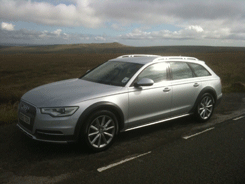 The Allroad should really have been called the 'All-Rounder', because that's exactly what it is. It offers so much, but it does come at a cost; a cost of £43,150 on the road to be precise.
The A6 family is tried and tested and the new A6 Allroad – like the other models in the range – hasn't changed in design dramatically and can clearly be distinguished as an A6 Allroad. The new car has received some subtle styling changes and these have really given the car a more modern and stylish look. The A6 has gone through the usual evolution and not a revolution process, so it's easily recognisable and doesn't make the old car look suddenly dated.
 

This Audi All-Rounder is almost perfect in every aspect and does offer the owner a lot of car.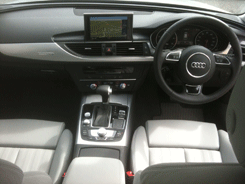 The car we tested had the 3.0 litre V6 TDI 204ps diesel engine, which offers more than enough power, with a 0-62mph time of 7.5 seconds and a CO2 emissions figure of 159g/km. Its official combined MPG figure is 46.3 MPG, which we thought was very optimistic for a 3.0 litre car, but we actually did achieve over 40 MPG regularly, and on a long journey on the motorway it averaged at 41.3 MPG, so a good result. The A6 Allroad 3.0 litre is fitted with an 8 speed S Tronic automatic gearbox, which is so smooth that you hardly notice it shifting gears.
This Audi All-Rounder is almost perfect in every aspect and does offer the owner a lot of car. It has Quattro four wheel drive, so you can be fairly certain it will get you out of a boggy field or be good enough when the bad weather comes. It's an estate car so luggage room is plentiful and when the rear seats are folded down it almost turns into a small van; it also has air suspension, so even when heavy loads are being carried the car will remain level.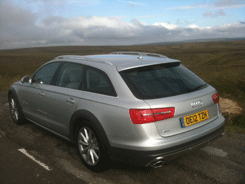 Out on the road the A6 Allroad is a pleasure to drive in any conditions. It's extremely quiet in the cabin, it's comfortable and it has a spacious interior that can easily accommodate 5 adults. The added knowledge that it has four wheel drive capabilities is a reassurance when it comes to safety; it's nice to have even on wet roads and let's not forget that we do have many rainy days here in the UK, so this added benefit isn't bad thing.
Audi has got it exactly right with the A6 Allroad; it may seem a bit expensive on paper, but add up all the standard specification features (which includes leather and sat nav), the quality and the economy from that wonderful V6 diesel engine, it isn't too over-priced. I like just about everything about this car and like I mentioned earlier, it really is a true all-rounder. It offers everything you would ever want in a car.