Third Driving Impressions – Vauxhall Adam
12/03/2013
—
CAP Marketing
This is the third time we have driven the Adam, but this is the first time with Vauxhall badges on. The first time was an early pre-production car that was camouflaged near GM HQ in Frankfurt, the second was on the International Press launch near Lisbon, and now a right-hand drive in Stratford, London.
Vauxhall held the event in a shop in the Westfield Shopping Centre close to the Olympic Village, but surprisingly the test route which had good roads to test the Adam on (including the M11), were not far away.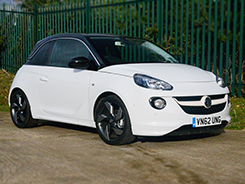 Some manufacturers have heritage, such as Jaguar, Rolls Royce, Bentley, Ferrari and Aston Martin, and some cars carry their history forward with them such as Fiat 500, VW Beetle, MINI, and the new Jaguar F-Type is to many people a modern version and a continuation of the E-Type. The Adam does not have any Heritage, or is GM's version of a modern day classic. It is starting from fresh, and that is where it may struggle to get a foothold. A manufacturer cannot suddenly create a niche car, as good, cute and cuddly as it is and expect the public to fall in love with it immediately – this takes time, as history has proved.
The name of the car may seem a bit odd but the explanation behind it provides more clarity. Adam Opel was born in Russelsheim near Frankfurt on 9th May 1837, and in his twenties he went to Paris to learn all about the latest invention: the sewing machine. When he got back to Germany he was loaned an unused cow shed by a family member and started building his own sewing machines, and then later he moved on to producing another new invention: the bicycle. Adam died in 1895 before the company he founded started building automobiles; it was his sons who took the Opel Company into full time vehicle production in the family's home town of Russelsheim and this is where the company is still located today.
The design stage for the Adam only started in the summer of 2009 and in this short time Malcolm Ward – the Design Director of GM – brought this small, cute car to market. The designers had to produce a good looking car that had as much space as possible but with a maximum length of 3.7 metres. The ultimate aim for the whole team who brought together the Adam was to offer a small, functional car with appeal and individualism, where the chances of two cars being identical would be fairly remote.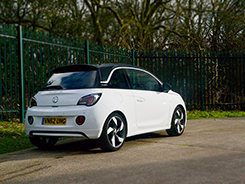 There is a choice of 12 body colours, with some very colourful names including Purple Fiction, James Blonde, Men in Brown, White my Fire, I'll be Black, Papa don't Peach, Saturday White Fever, and the worst one – Buzz Lightgreen. On top of these there are 3 roof colours, 20 wheel designs, 4 interior colours, 15 seat designs, 19 interior choices, 8 ambient light colours, 3 head linings and a long list of options including a Starlight Roof with 64 LED lights.  All this complexity can create confusion for production and dealer ordering but GM insist that any model can be produced and customers are guaranteed to get exactly what they ordered. In total there are around a million different combinations available.
The trim names in the Adam range are new and may seem a bit strange on first viewing. The base car is called the Jam (fashionable/colourful), then the middle grade is Glam (Elegant/Sophisticated), and the top-of-the-range is called Slam (Racy/Sporty). All trims have air conditioning and alloy wheels as standard. The top grade Slam has 17" alloys and a different colour roof as standard.
The choice of engines is limited but they're exactly what customers need in this sector of the market. These include a 1.2 litre and 1.4 litre – with or without start/stop – and they have CO2 figures starting from 118g/km, which is nowhere near class-leading. Engine power from the 1.2-litre petrol engine is 70ps and the 1.4-litre produces either 87ps or 100ps. There will be no diesel engines available and GM has ruled out the possibility of an electric version due to their poor sales performance and the heavy investment needed.
Out on the roads around London the Adam drove better than expected; it was quiet, quite refined and surprisingly pleasant to drive. We got plenty of attention from other drivers and pedestrians which is normally a good sign. We achieved just over 50mpg on average according to the on-board computer, with plenty of stopping and starting at traffic lights and roundabouts. Out of town and on the M11 it easily cruised at 70mph, with plenty of power still available.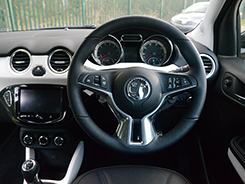 The front seats are comfortable and you feel as though you could travel for miles in them despite it being such a small car. However, the rear seats are compromised and adults would struggle to sit in them for long periods; I think even large children would begin to complain after just a short distance. Small kids will easily fit in but I would imagine lifting babies and small children in and out of child seats wouldn't be easy and you'd have to be fit and agile to perform such a task.
The Adam's main rivals will be the Fiat 500, MINI, VW Up!, Skoda Citigo, Seat Mii and the ever popular Ford Ka. All of these are very good competent cars providing a lot of competition for the Adam. 
The Adam is a great looking car; it has appeal and image. It has a superb design that will be timeless and it will look as modern in ten years' time as it does now.  It's a good effort by the design team; they've managed to get everything in proportion despite having to fit an engine, gearbox, four people and everything else needed into a car which is only 3.7m long.
Vauxhall expect to sell around 10,000 Adam's Per Annum in the UK, with prices starting from £11,255 and going up to £14,295, plus any options the customer decides to order.
Martin Ward